Introduction

Get ready for some mini-golf, the best thing with mini-golf is of course when you play together. That is what Golf with your friends is all about, there are multiple courses that you can visit and they all have 18 lanes.
I have played all of the courses and they are all very different in difficulty and style. I am not the best in mini golfing but this game is fun but it can also get on your nerves when a ball keeps flying away for no apparent reason. (Of course, this has nothing to do with hitting the ball too hard). There are also more modes that you can select like dunking or even hockey but for this review, I will be sticking with the normal mini-golf. I have encountered no problems or bugs with Golf with your friends and all the courses look fleshed out and stunning but if you want more courses you always visit the modding section and subscribe to new fan-made courses. A good idea is to look at the most subscribed or most played for the best courses in the modding section.
I will not write a story section in this review since there is no story at all, just hit the ball and see it roll away.

What did I think before playing Golf with your friends?
I got Golf with your friends in the Humble choice of September 2020 and it gave me the idea of a poll with multiple golf games. Golf with your friends looked very good graphic and gameplay-wise, this is why it was selected for the poll.
My wife also liked the idea of doing a golf poll but only if we did a co-op video together! I saw many positive reviews of Golf with your friends.
We selected a few other golfing games for the poll, this was harder than I expected since there are not many golf games that look like a game and not a recreation of a world tournament.
Golf with your friends got the most of the votes and thus I got started with golfing, the first course I was going to visit was the forest. This level was made to ease me into the game.
I later learned there are some weird things in this game like flying super sheep from the game Worms that poop bombs on you while you are trying to get the golf ball in the hole.
You might even meet the Kraken!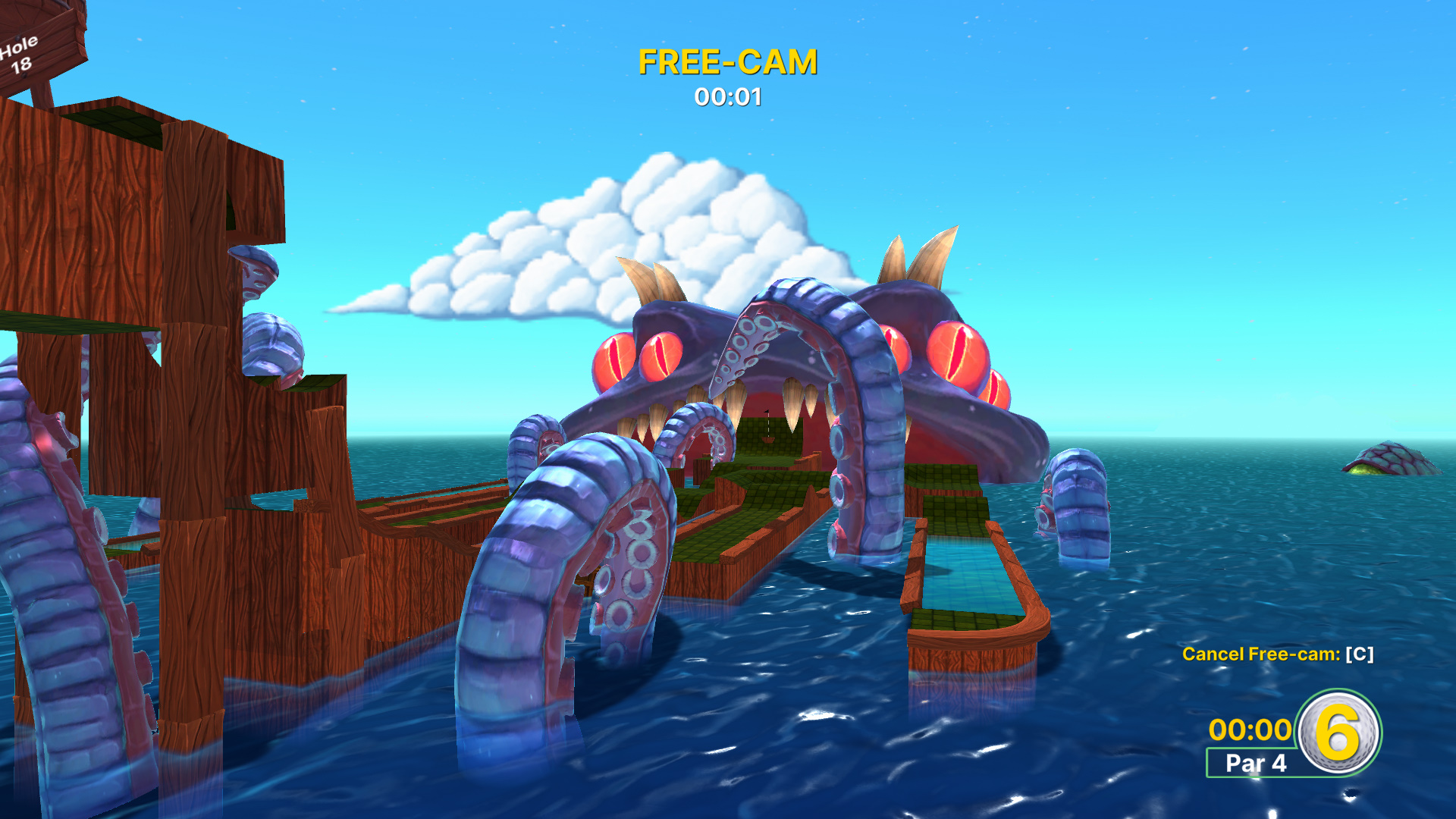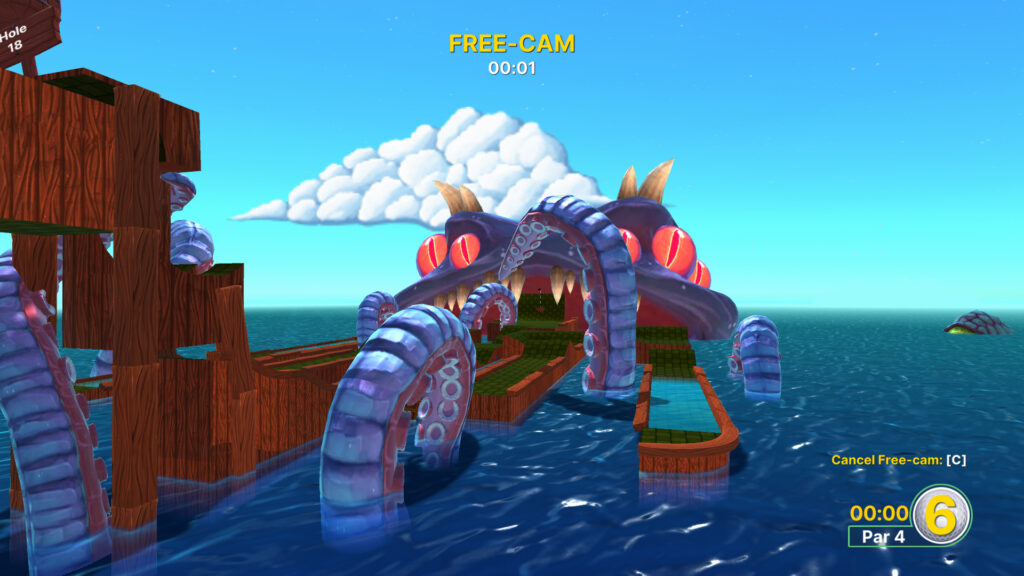 Gameplay
In classic mode, you have two minutes to finish the Lane that you are currently playing, switching controllers with player 2 not included. Your task is to get the ball in the hole before the timer ends and within the recommended shots. You have eleven tries if you fail to get the golf ball in the hole with the recommended shots. You have 15 seconds to look around where you need to shoot the golf ball. This timer resets every time you go to a new lane. After every finished lane, you will see a scorecard to see if you are on par or not. All the courses have many different themes and things to battle. In the forest, you have plain fields and easy shooting but if you go to the space station you get to deal with teleporters. Some courses might be easier for some people and harder for other people.
I had the most fun with the ancient course and I disliked the space station the most. I can deal with teleporters but those magnets are really tough to deal with.
You can play this game with multiple players with one controller by taking turns or go online and play with random people. You can also change some settings before playing to suit your taste. For example, letting your ball jump or to change the gravity in the course.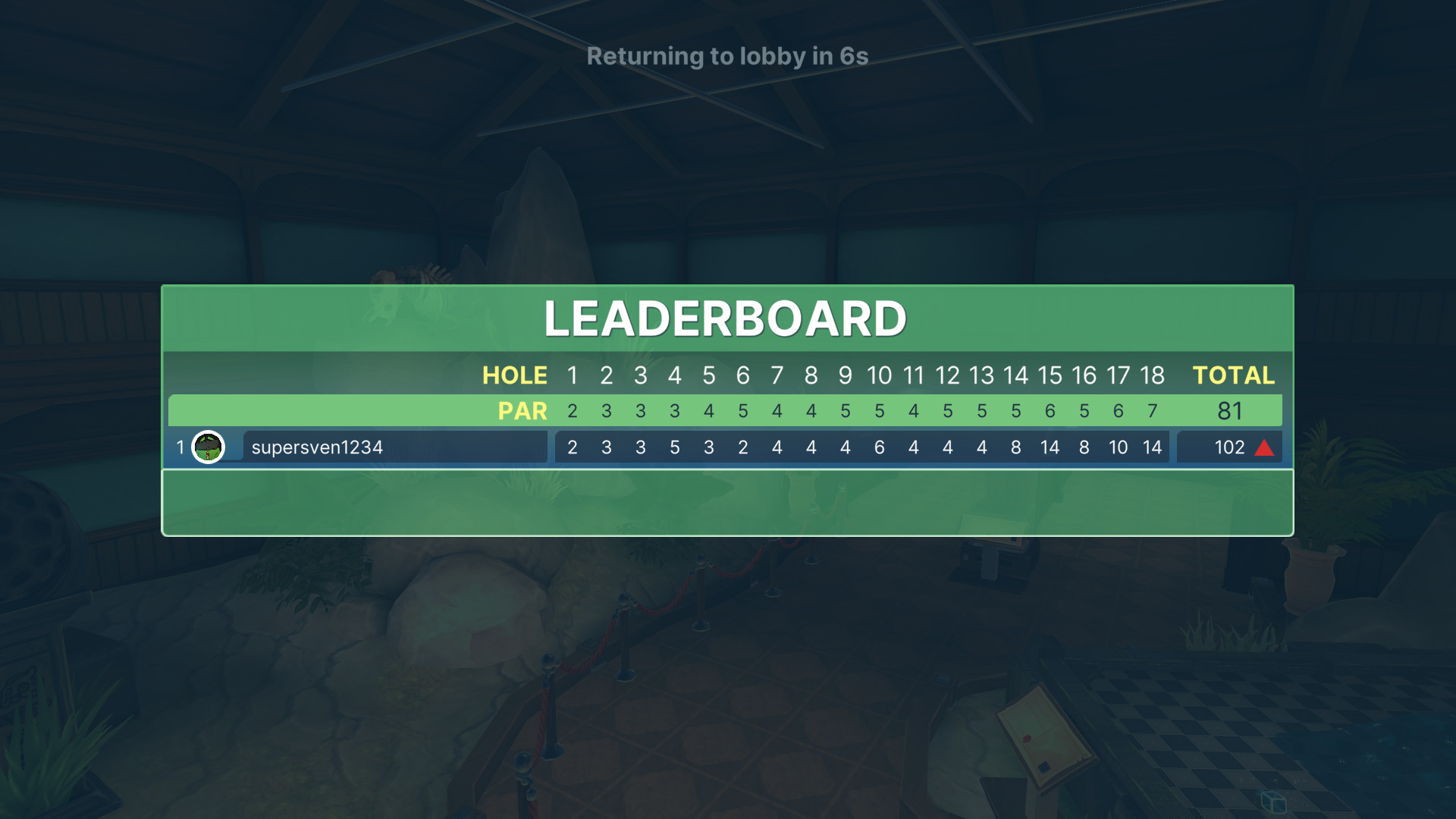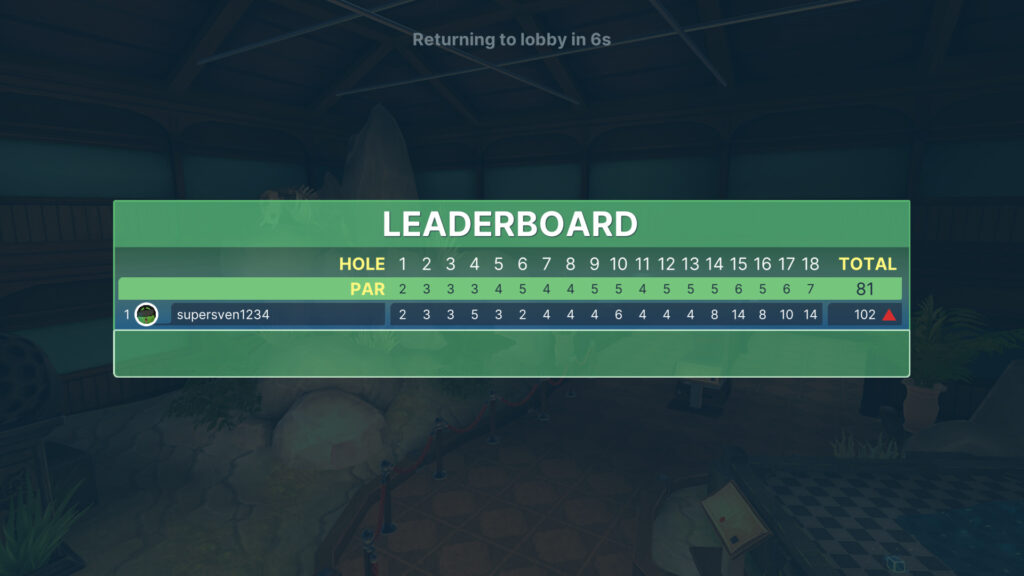 Sound and Graphics
The sound and sound effects are catchy and the soundtrack was nice to hear while playing golf, there might have been a few more soundtracks but I was very occupied with the competition between me and my wife. We both finished with a score of 88 in the video!
The graphics are stunning, they are highly detailed and you will see many different decorations along the way. Some of the decorations also need to be interacted with and others will fire bombs at you.
I liked the graphics and they bring the courses alive when playing Golf with your Friends

What did I think after playing golf with your friends?
I have played the classic mode for the review which I sincerely enjoyed. I have played through all the main courses and I visited many places while meeting dinosaurs in the ancient world. I also found some gingerbread people in the candy land!
There are many other places to visit like the haunted mansion or a themed world from the game Escapists. In classic mode, you need to try and get a par on all the courses but don't ask me to explain all the rules of mini-golfing.
I was not the best in mini-golfing with this game but then again I also am bad at mini-golfing in the real world but this game does give you some good laughs. I had highs and lows with this game as I got a hole in one or kept failing the same shot over and over. The co-op was the most fun, the name of the game is perfect. Golf with your friends, this is indeed the most fun but I also liked playing the game solo.


My personal rating for Golf with your Friends is 7.2

Pros and Cons

Pros
– There are multiple courses to choose from.
– You can also select courses from the steam workshop for more fun.
– You have multiple modes to choose from to match your gameplay style.
– The lanes are all different and they do not feel repetitive.
– The graphics in Golf with your friends are stunning.

Cons
– I wish there were more official courses to choose from.
– Some of the lanes feel insanely difficult.
– For the longer and more complex lanes two minutes feels too short to finish the lane.
– You only have 15 seconds to look around in the lane, this is to short for some lanes to even reach the end of the lane.

I recommend this game to everyone who loves mini-golf, I had more fun than I would have expected when playing this game.
I give this game a …drumroll…

7

Don't forget to leave a comment on what you think about the game.
Thank you for voting on Golf with your friends, I had a blast playing this game.
I hope you liked reading this review hope to see you in the next review!