Today we are once again diving back into the Metroidvania genre. this time around we have one epic demo to write about! This must-have piqued your curiosity! What if Metroid Prime 1 was made in 2D instead of the 3D version we all know about for the Gamecube? Team SCU has been hard at work for god knows how long to be able to finally release a playable demo. If I did not know better I would say this was a demo made by Nintendo. This Metroid remake features the same layout and upgrades as Metroid Prime 1 but with some epic twists! I know it has not officially been branded a Remake but the game has been build up from the ground to make it in 2D. This technically means it is a remake or re-imagining of an already existing game.I will not write a story section in this review as the story is well known and this game is a demo, when the full game launches I will write a story section!
What did I think before playing the Metroid Prime 2D demo?
I was just looking around social media when suddenly I saw the message that a demo has been released for Metroid Prime 2D. I was not even sure if that game still existed. I know I heard about it a very long time ago! To finally be able to test this demo was very exciting. I think a lot of Metroid fans have played this demo already. This is of course also because we are all itching for another adventure with Samus Aran but Nintendo has not released a decent 2D Metroid recently. I quickly visited the forum where the demo is located, interested? Check the link down below. 
https://forum.prime2d.com/t/prime-2d-demo-v0-1-21-4-1/6582
Nintendo owns all the rights to Metroid and this is merely a fan game without the intention to make money or with a commercial release on their minds. This game is simply to please the Metroid community with a new game just the way they like it, in 2D. Without much knowledge of the game or how long the demo would be I jumped in with an open mind to play this Metroid Prime 2D Demo!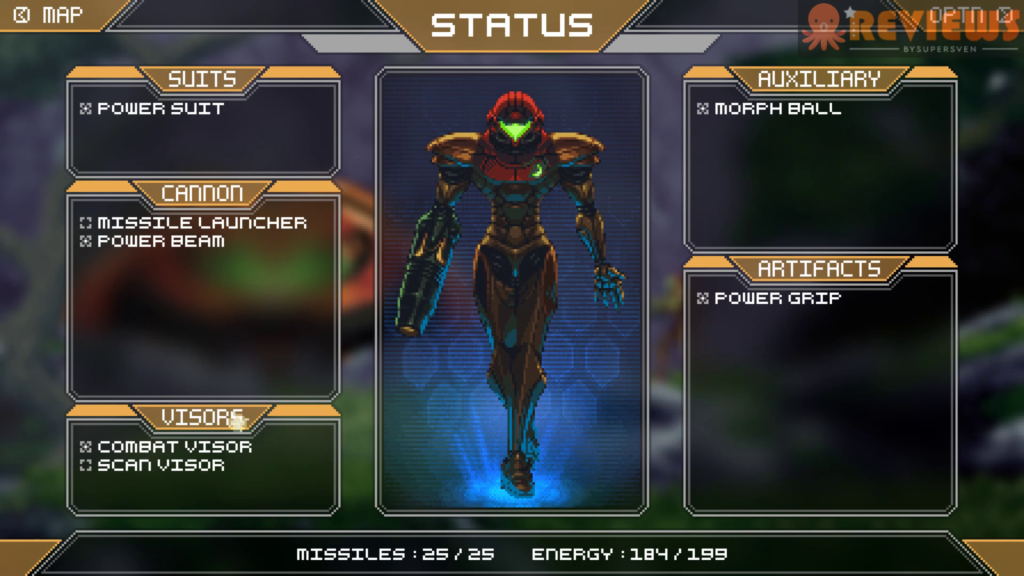 I rate the Metroid Prime 2D Demo with a 7.5.
I did not know what to expect exactly from the demo or what gameplay it would entail but nonetheless, I was very intrigued to play this demo!
Samus Aran is on a new mission, once again in 2D style. You start out with barely any upgrades, you don't even have the morph ball upgrade yet. It is your goal to collect upgrades to unlock more areas. In the demo, you can unlock missiles and the morph ball but don't forget about the power grip This does not mean that these are the only and final upgrades. We encountered in the demo areas where you need morph ball bombs or the famous speed boost. The bombs can even be seen in the demo but alas you are not able to collect them yet! We all know what to do when we have new upgrades, time for backtracking!
Your goal is to explore the planet and find out what the totems are and what secret lies underneath. To do this you need to explore the planet and collect the artifacts, these are not yet available in the demo of Metroid Prime 2D. You will start out with one energy bar, don't let his bar reach zero or it is game over! You will encounter enemies which you can shoot down by aiming with your mouse, this worked better than I had expected. Currently, the goal in the demo is to collect the missiles and defeat the H.I.V.E Robot to gain the missiles and the morph ball.
Once you have defeated the H.I.V.E Robot you can backtrack like in any other Metroidvania and collect some more goodies. There is only one bad thing that I noticed in the demo. It ends way too quickly, I want the full game! This demo will really blow your mind if you are a fan of Metroid, especially the 2D Metroid fans.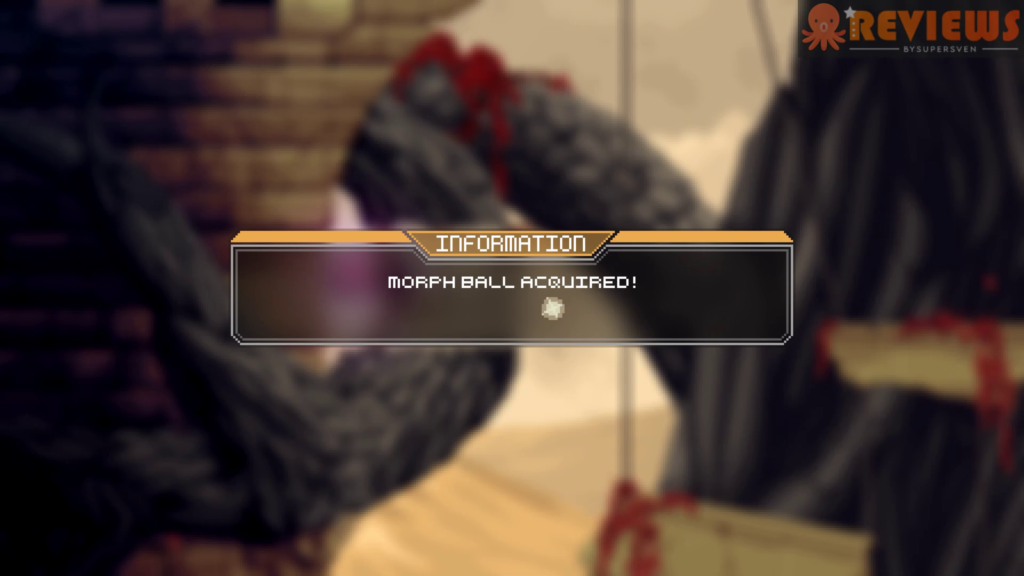 I rate the gameplay of the Metroid Prime 2D demo with an 8.5.
I want to leave room for improvement for the full game but if Team SCU maintains this quality for the whole game, I foresee a 10 in gameplay!
As we all know the graphics are very important in a game. Capturing the essence of a true Metroid game can be really hard but Team SCU has done a great job! My wife said that if I would have told her it was made by Nintendo she would believe me. The only thing I hope for the full game is that there will be more buildup for the story in the beginning! I am very curious if they are going to also use the tutorial space station in the full game!
The soundtracks are great in the Metroid Prime 2D Demo, there is also nothing wrong with the sound effects. The sound and graphics click together perfectly to create the Metroid atmosphere that we all know and love!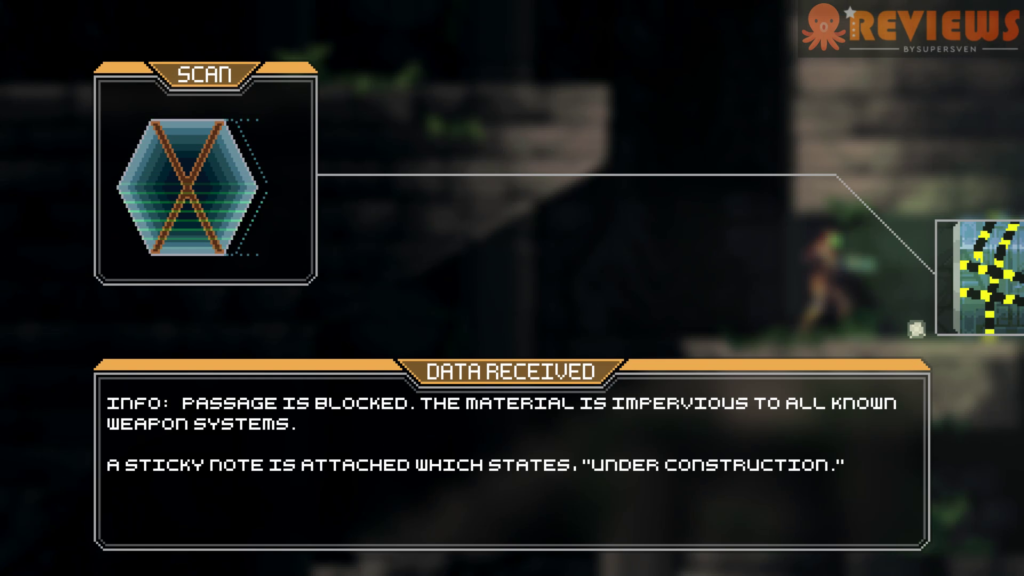 I rate the sound and graphics of the Metroid Prime 2D demo with an 8.6.
I want to wait for the full release before rating the sound and graphics higher but if this is the quality of the complete game. Team SCU is golden and can expect a rating of 10 from an objective and personal standpoint for the sound and graphics.
What did I think after playing the Demo of Metroid Prime 2D?
I had a lot of fun when playing the Metroid Prime 2D Demo and the only bad point I can think of is that the demo is too short. This is not a big problem off course, unless you need to wait a long time for the full release of this game. You can expect a review of the full game when it launches. I think Team SCU went the right way in re-imaigng Metroid Prime 2D while also adding new elements like the new stage of the H.I.V.E Robot. I expect to see more of these unexpected twists to keep me on my toes! Are you interested in more fan-made games? Check out the review for Another Metroid 2 Remake!
https://www.reviewsbysupersven.com/2020/12/16/another-metroid-2-remake-fan-game/
This demo was very good and it exceeded all my expectations, I am excited to see more upgrades and enemies in action. I am most interested in how they handled boss fights and the suit upgrades! We all know what we are going to need eventually. Good upgrades to take down Metroids!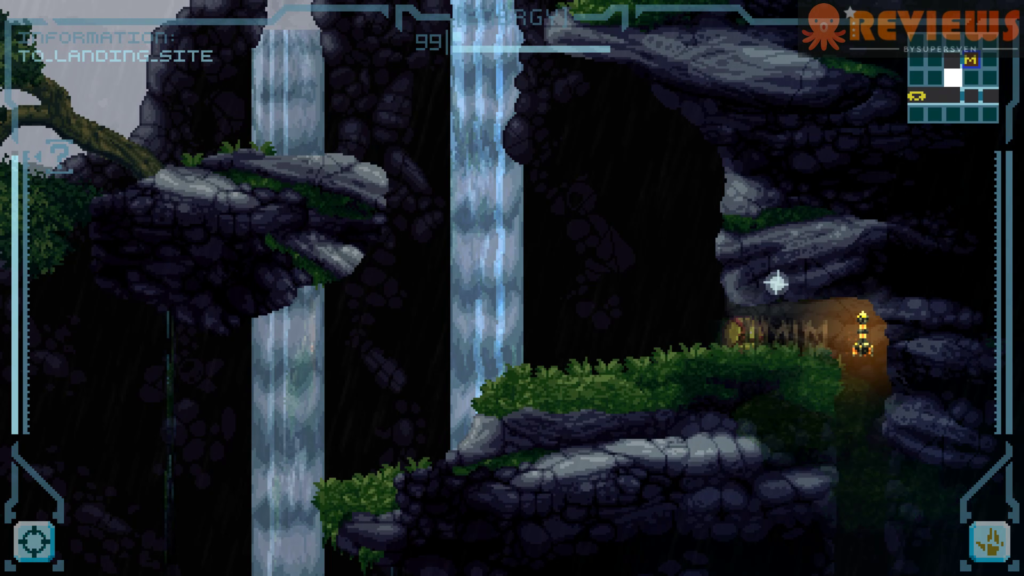 I rate the demo of Metroid Prime 2D with a 9.0 after playing.
This demo is a perfect representation of what the quality will be in the end when the full game will be released. I hope that Team SCU keeps up this quality for the whole game with no rushed areas!
What are my personal thoughts about the Metroid Prime 2D Demo?
I had a lot of fun when playing the demo, I even played the demo twice and recorded a full walkthrough of the demo. Are you looking for some goodies? Check out the walkthrough below to find what you need. If you want to know what the new H.I.V.E Robot does, you can see me fighting the new H.I.V.E Robot in the video below as well! Timestamps are included in the Youtube description.
My personal rating of the Metroid Prime 2D demo is a 9.1
I loved the demo and I am excited to see what the full game entails!
I would recommend downloading the demo to see if you are interested in how the game is made. The mechanics and elements available in the game are solid.
Let me know what you think about the Metroid Prime 2D demo in the comments!
I hope that you enjoyed reading this review, I hope to see you in the next review!
If you liked reading this review, why do you not share it with your friends!?