This time we are going to do a short review of a mobile game that we wrote an advertisement for in March 2021. Space Math has finally been launched into the review space! As this will be a short review I will not add the sections of what I thought before and after playing Space Math. Space math also does not have a story which makes this quite a small review. Just because the game is small does not mean we are going to skip a review! What is Space Math about? Space Math is a simple mobile game that will test your mettle in the math world. I played this game and mostly the time pressure lets me make mistakes!
Space Math has a very simple gameplay mechanic. You can choose from three difficulties. This makes the game accessible for young and old. The gameplay does suffer because there are already a lot of different math games out there in the mobile app stores. That also means that finding this game can be hard unless you have the link to the store page.
We at Reviews by Supersven have played Space Math several times on normal before I decided to record a video. This video was made on hard mode. The general consensus of this video was to see if I could survive hard mode with a decent score at the end. What do you think? Did I succeed?
I rate the gameplay of Space Math with a 5.5
Space math does exactly what it is supposed to do but the problem is mostly that math games are abundant. There is nothing wrong with the mathematics of this game but there are already over five space maths in existence.
The graphics are flashy and good for Space Math, better than that you would expect for a math game. You can even choose which layout for numbers works better for you. This was practically and looks neat.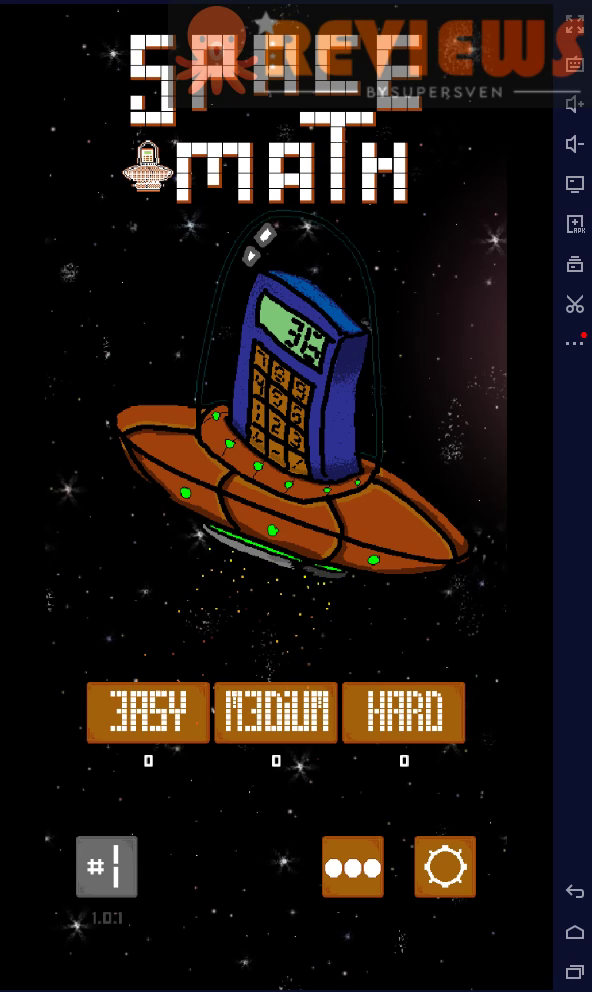 There are no sound or sound effects at all in Space Math. We tested Space Math on three phones and an emulator just to be sure but alas no sound.
I rate the sound and graphics in Space Math with a 2.3.
Why the low rating? Mostly because there is no sound at all. This disturbed the focus a lot while solving these mathematic problems.My mind kept wandering, where is the sound?, did I actually click the button?
What are my personal thoughts about Space Math?
My personal rating of Space Math is a 3.5
I like the idea of Space Math but this game faces a few huge problems, mainly there are already too many Space Maths on the market and there is no sound at all.
Have you ever wondered how we calculate the final rating of a game? This seems like the perfect review to show you how!
Gameplay rating 5.5 +Sound and Graphics 2.3 = a total rating of 7.8. We divide the total of 7.8 of all ratings combined, this time that would be 2. 7.8 divided in 2=…..
The personal rating is never included in the final rating!
Let me know what you think of Space Math in the comments!
I hope you enjoyed reading this review, I hope to see you in the next review!
If you liked reading this review, maybe you would like to share this review with your friends!