A new beta review will be launched. This time we are going to look at a game with cute creatures. Never mind all those other nasty creatures that want to eat you. Oh, there is also a big cylinder that wants to crush you! This is a beta with a huge cliffhanger! In this game, you are a little creature called a Trebhum. These creatures can mutate by eating certain food items. Grow another eye or maybe some webbed feet for swimming! You can also level up your stats or save other Trebhum to form your own group! It is your goal to stop the eternal cylinder from rolling but how?
What did I think before playing the Eternal Cylinder Beta?
This game came on my path because a lot of different people requested me through Steam for this game like Pretumos. I applied for beta testing and received the key! I was very interested when I saw some of the gameplay footage. My wife was also sold and applied for the beta version as well! To get more information we went to the official page of the Eternal Cylinder game!
The official Eternal Cylinder page!
https://www.eternalcylinder.com/
I decided to scour the page for more information on this creature called the Trebhum. I quickly learned that each Trebhum is unique and can have different mutations. You can also explore an alien world with many unique creatures and plants. This sounded very intriguing!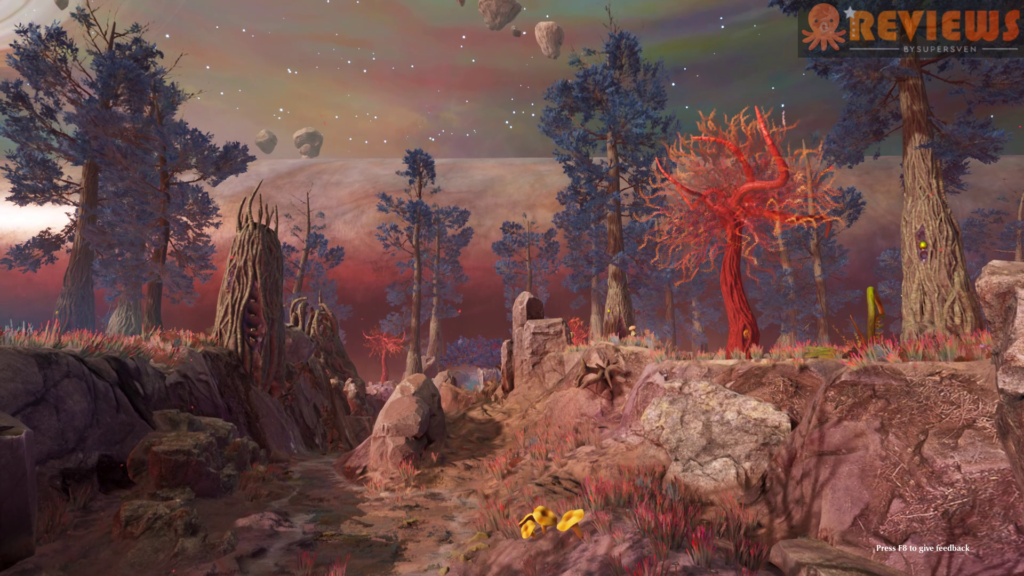 I rate the Eternal Cylinder Beta with an 8.1 before playing.
This game reminds me a lot of the Spore creature stage, which was one of the greatest elements in Spore. I wanted to explore a new world with a creature that can mutate!
The story starts with a very stubborn Trebhum that is born in a harsh and cruel world. There is a voice in your head that screams RUN! There is a huge cylinder coming your way, the cylinder wants to crush you! The Trebhum manages to get to safety and that is where his grand adventure to stop the cylinder starts!
I rate the story of the Eternal Cylinder Beta with an 8.0
I want to leave room for improvement in this rating for the full game but the story sucks you right in. What is the cylinder? What is behind the cylinder? Why does the cylinder keep rolling? Why is the Trebhum special?
In the Eternal Cylinder, you will need to survive not only from the eternal cylinder that wants to roll over you but also from the hostile environment. Poison gas, the cold and hungry creatures are around in every corner! You will need to create a small group of Trebhum and give them all different abilities to survive these harsh conditions. You will also find old Trebhum that will bestow you with their knowledge.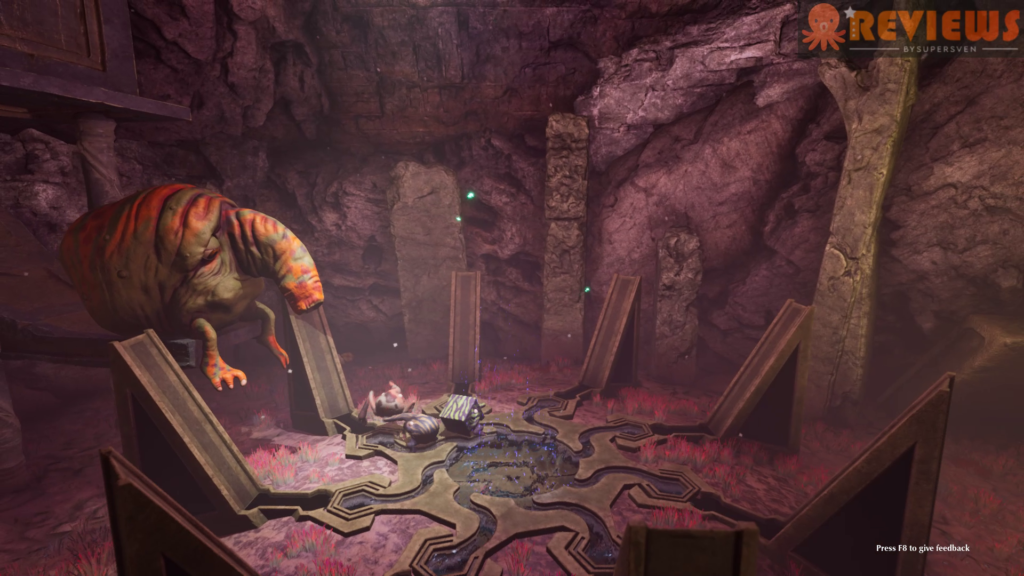 To survive in this harsh world you will need to make sure to find the right mutations to survive. Either grow legs for high jumping or find an item that will give you immunity to poison gas. There are also hidden mutations like the extra eye to find items that you are looking for by choosing them in the compendium. along the way, you will also find minerals left behind by elder Trebhum.
These minerals are needed for either curing sick Trebhum or raising your stats when you find a shrine where you can level up certain stats of your Trebhum, like for example your stamina wheel! You will also need to eat otherwise your Trebhum will starve, food can be found everywhere! Next to food, your group will also need water, water can also be squirted at items or creatures. It is all up to you to survive the harsh world and find out why the cylinder keeps chasing you!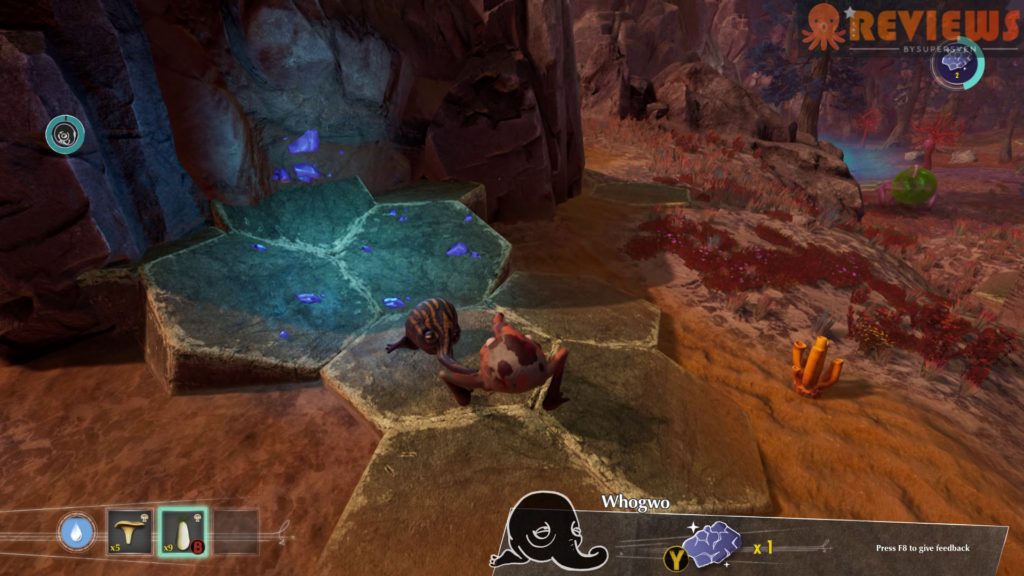 I rate the gameplay of the Eternal Cylinder Beta with a 8.5
The beta is very good in gameplay terms but I want to leave room for improvement for when the full game launches!
The graphics are stunning, especially for a beta version of this game. The mutations all look good and they all have a different impact on your Trebhum. The alien world actually feels alien, the weird flora and fauna are a perfect fit.
I like the soundtracks and sound effects of the beta version of the Eternal Cylinder. The Trebhum also make ambient noises and talk with each other when you stand still for a few seconds. The narrator does a great job of telling you how the story is unfolding!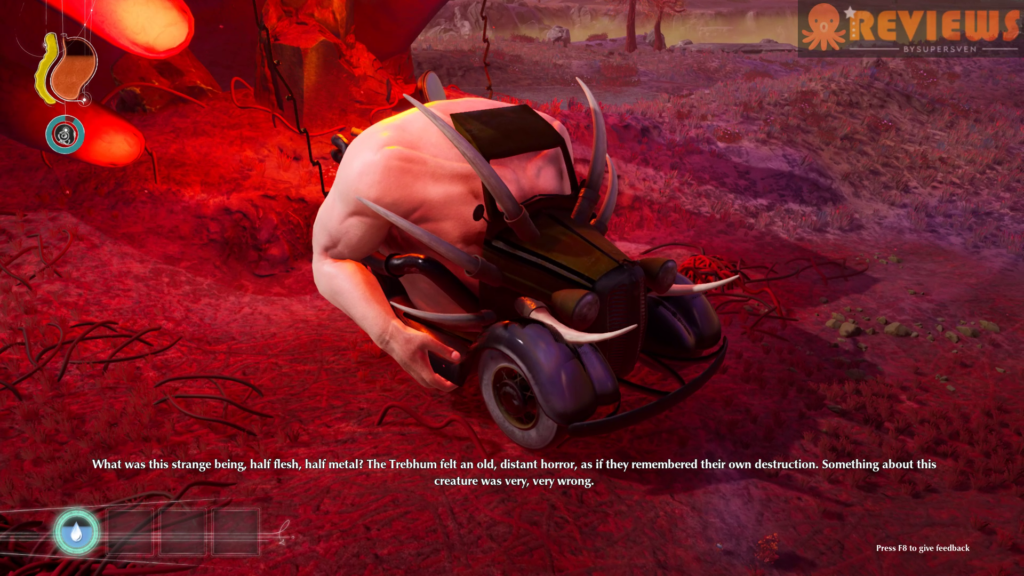 I rate the sound and graphics with an 8.6.
The sound and graphics are great and match the alien world perfectly but I want to leave room for improvement for the full release! The narrator is amazing!
What did I think after playing the Eternal Cylinder?
I had a lot of fun figuring out what to do in the Eternal Cylinder and learning about the mutations in the beta version of this game. I am excited to see more mutations and landscapes in the full release of the Eternal Cylinder. In each new section, you will need to stop the cylinder temporarily while you explore the area but if you leave the area, the cylinder will start rolling again.
This game did not look like Spore at all or anything that came close to it. but the game has its own unique elements which created  solid gameplay mechanic elements.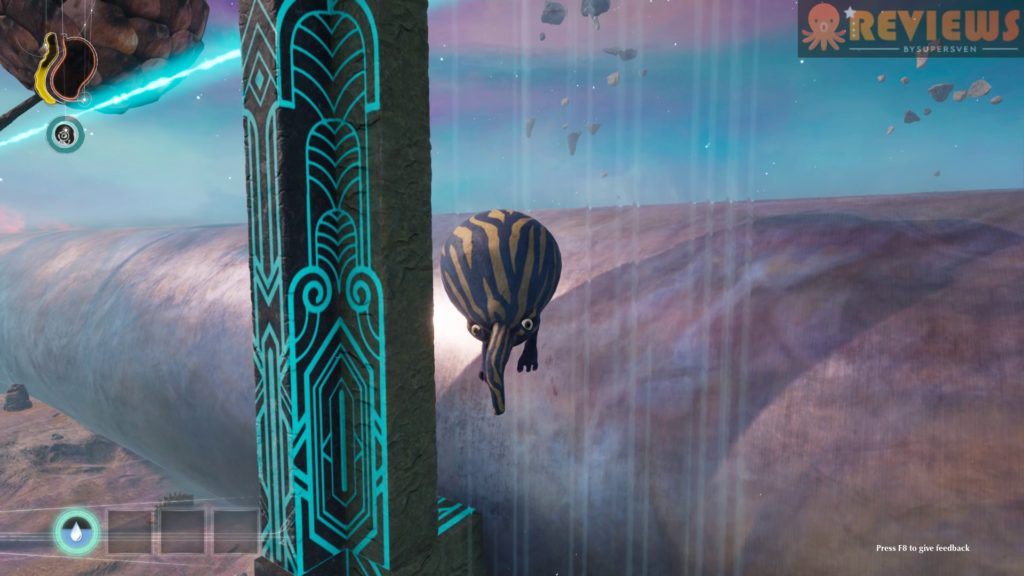 I rate the Eternal Cylinder with an 8.3 after playing!
I am excited to see what the full release of this game will hold!
What are my personal thoughts about the Eternal Cylinder?
I played this game twice and the second time I recorded the full run! You can watch the full Beta walkthrough down here, I hope you do not mind cliffhangers!
My personal rating of the Eternal Cylinder is an 8.
I am excited to find out how the story continues!
I want to give a higher personal rating if the story keeps being this amazing in the full release! Oh, and of course, other mutations and creatures!
If you like exploring alien worlds, then this is the game for you! Step into this new journey and take control of the stubborn Trebhum race!
Let me know what you think of the Eternal Cylinder beta in the comments!
I hope you enjoyed reading this review, I hope to see you in the next review!
If you liked reading this review, maybe you would like to share this review with your friends!