Today we are going into space with Battle for Antares! In this game, you will try to conquer the galaxy and eventually Antares! You can choose from different races, whom all have their own strengths and weaknesses. Once you have a planet, you can build an establishment that will make drones for your fleet. Do not forget to grow food for your population!
What did I think before playing Battle for Antares?
I was asked by the developers of Battle for Antares to look at their game. I am always pleased when developers come to me to ask if I want to review their new or older game. Not only that, but I have way to many requests though! Battle for Antares sounded like a fun game that you can play in a small amount of time. Depending on how much time, you can change the map size. For more information, we went to the Steam Page!
https://store.steampowered.com/app/1654510/Battle_for_Antares/
The steam page is not very informative, but rather a short burst of information. Luckily, I already had some information from the developer, but if you are new to this game, the Steam Page might not sell it for you. I would advise you to look up some gameplay trailers! Some improvements to the Steam page would be a good idea!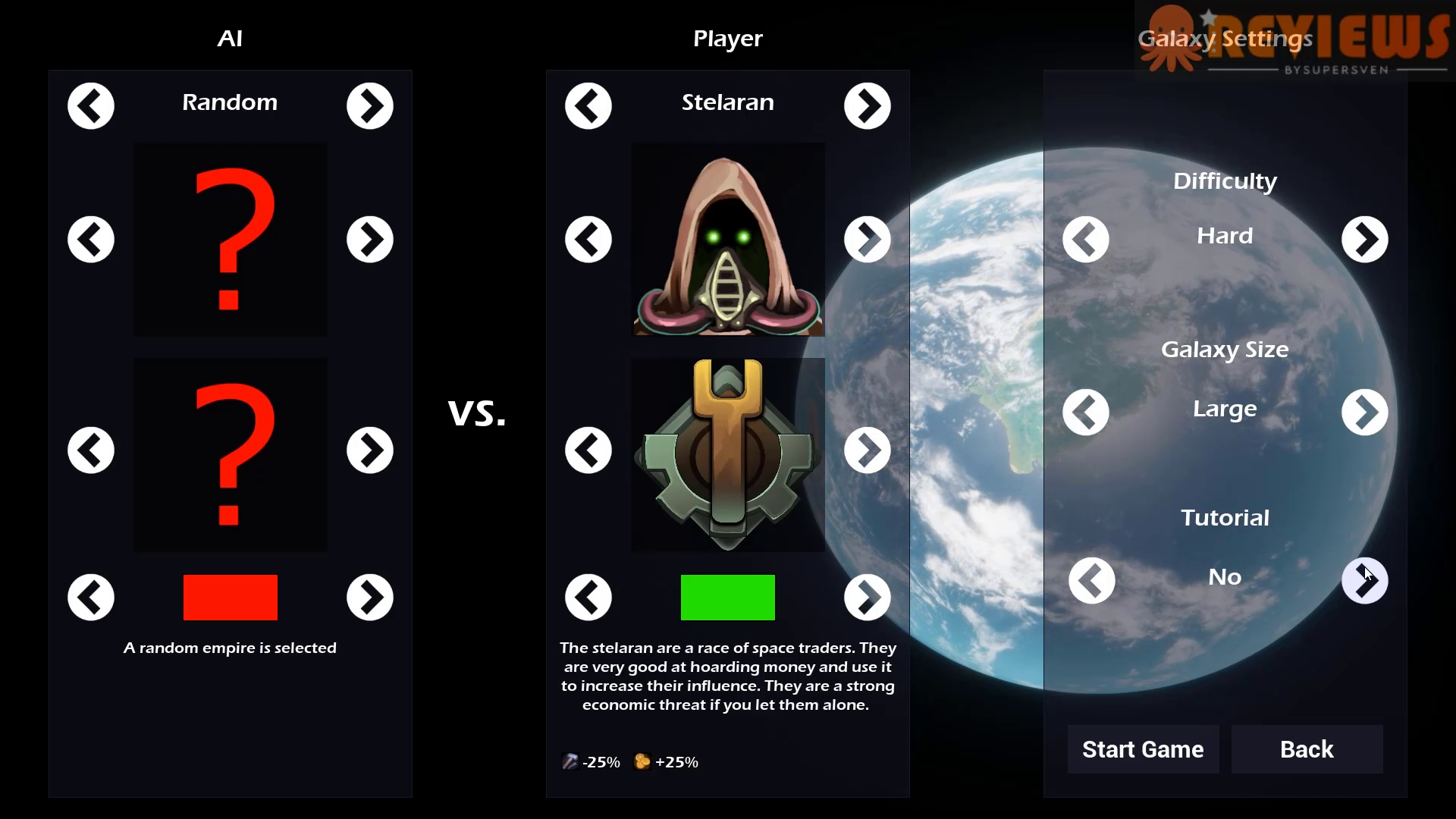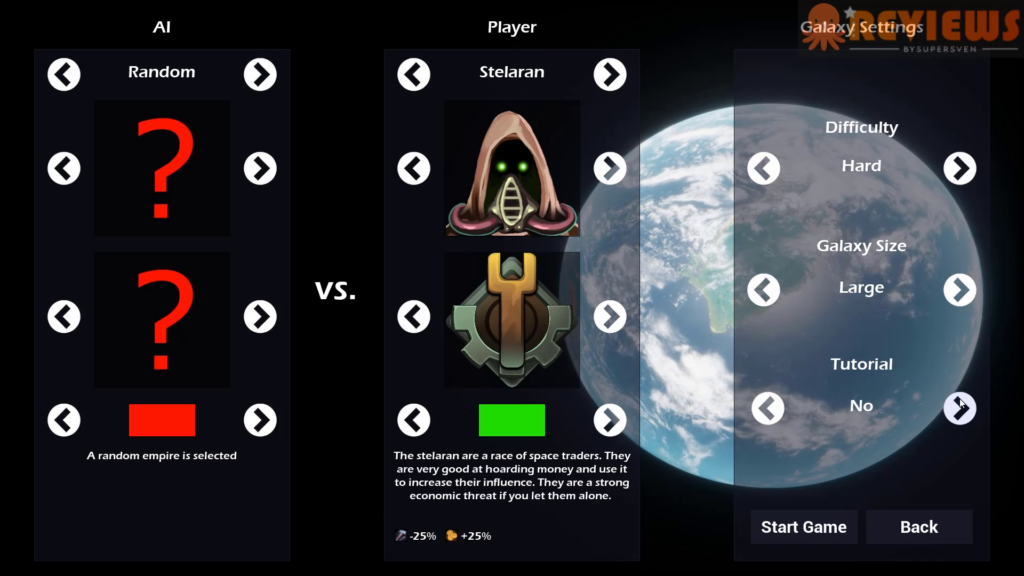 I rate Battle for Antares with a 6.5. Before playing.
The Steam Page is not very informative of what you can expect in the game, but rather a short burst of information. However, the game does look exciting.
Battle for Antares starts out with getting you up and running for a match. There are different races, and they all have their own bonuses. Afterward, you can select how big you want the galaxy to be and how hard the enemy will be to beat. I usually choose hard!
Once you have selected which empire you are going to face and have double-checked all the settings, you can click on the start button and a galaxy will be generated! You will start with only your home planet, on which you still need to build settlements. Each settlement will have a task, for example building drones or growing crops. It is important to also have a research establishment and an economic establishment to gain research points and gold!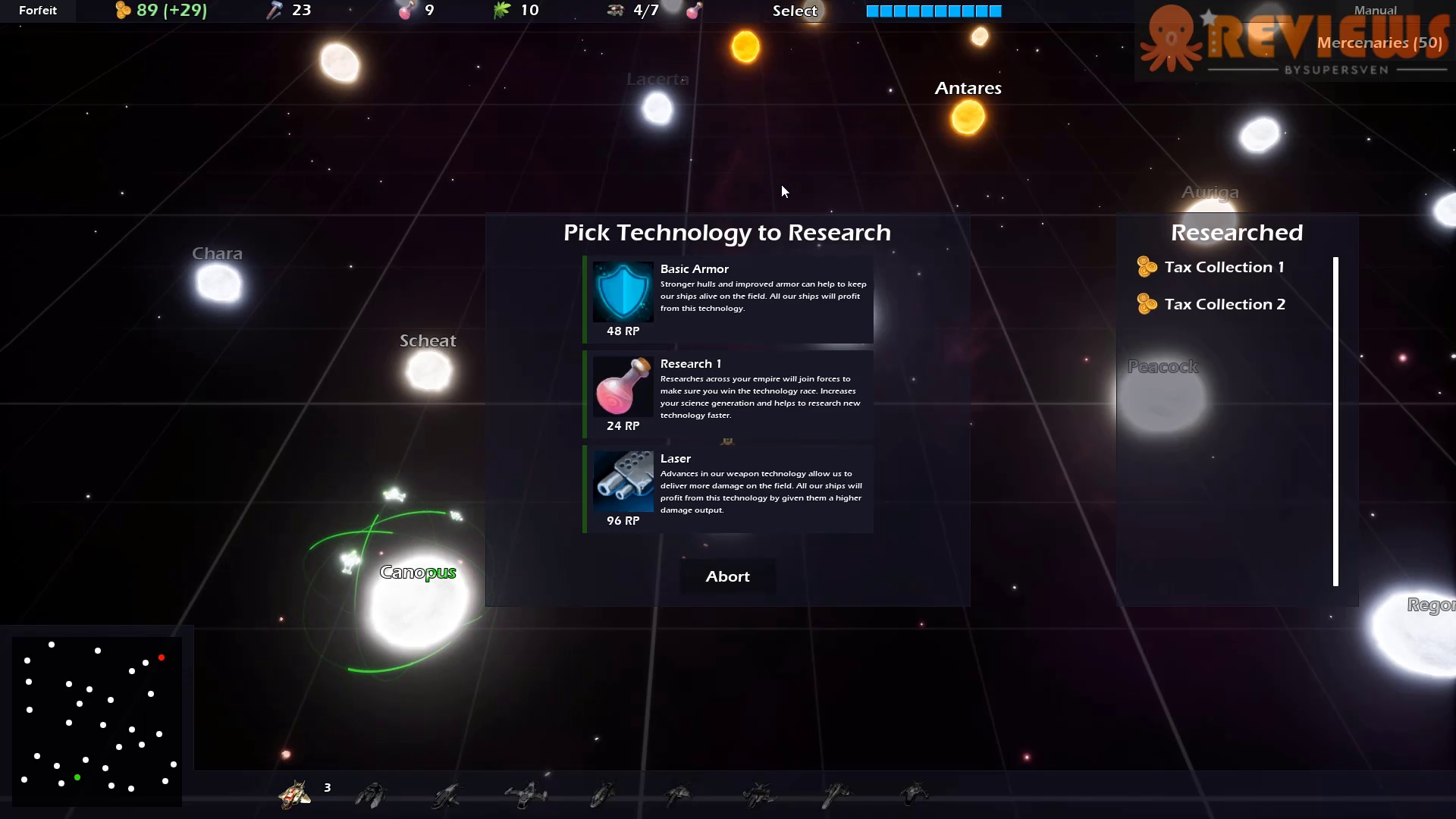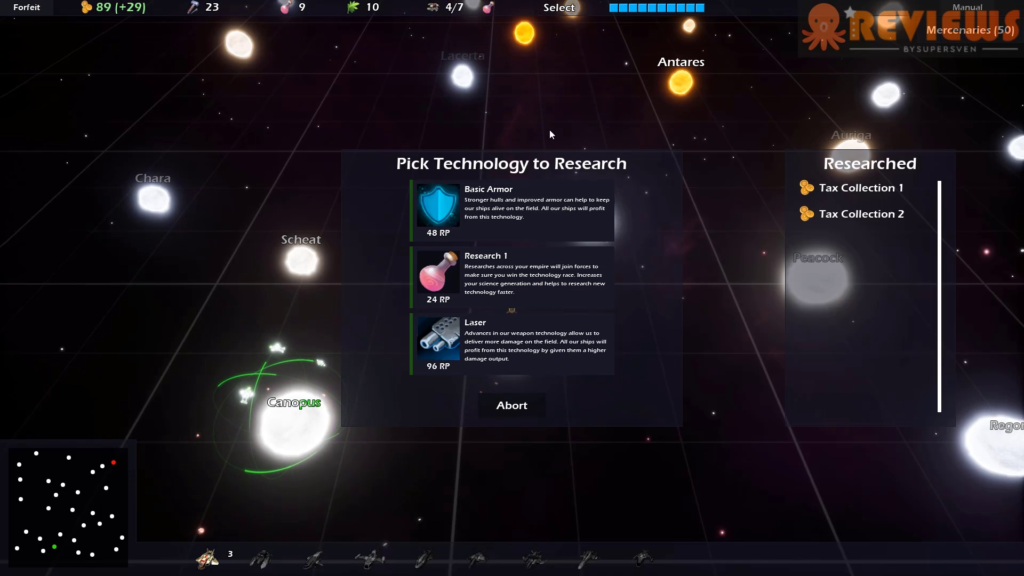 Once you are all set up, you can select where your drones need to go, they will follow your command! These drones will not get stuck in your hair! When your fleet hovers near a planet, they will attack the planet! Using research, you can upgrade and add new drones to your fleet! You also need to be careful of what the other empire is doing, who knows they might try to take your planet! Can you defend your planet, defeat the opposing empire and claim Antares?
I rate the gameplay of Battle for Antares with a 6.5.
The matches are fun as well as the gameplay, but it can get stale quite fast. After playing three matches, you have seen almost everything that Battle for Antares has to offer.
Battle for Antares has medium graphics and nothing special to show you. It works exactly like it should, but do not expect anything spectacular.
I have noticed there are a lot of soundtracks with a copyright claim in this game. Even though the music is not bad, I have to wonder why did the developers not use any royalty free music  which is excluded from copyright.
I rate the sound and graphics with a 6.3.
I had expected more from the graphics and more royalty free music, but otherwise it is fine.
What did I think after playing Battle for Antares?
I had quite some fun when playing Battle for Antares, at first I needed to learn how the game worked of course. Usually I am not that into space games. Battle for Antares is fun for a little while, but that wears off quickly once you notice it is the same match every time. Build up your forces, take over a few planets, the enemy attacks. Push back the enemies and keep conquering!
I rate Battle for Antares with a 7.2. After playing.
This game is very fun, but there is no story to drive you and playing for longer periods of time is ill-advised.
What are my personal thoughts about Battle for Antares?
I had quite some fun with this game, but sadly no story to keep me occupied for a longer time. After a few matches, I was quickly done with Battle for Antares.
My personal rating of Battle for Antares is a 6.6.
The fun is over quickly, but nonetheless a fun and great game for a (lunch) quick break!
A great game for a coffee or lunch break! If you like space games where you need to build settlements then I recommend to check out Battle for Antares!
Let me know what you think of Battle for Antares in the comments!
I hope you enjoyed reading this review, I hope to see you in the next review!
If you liked reading this review, maybe you would like to share this review with your friends!