A new review is live, but do you have the eyes to see this review? Grant us eyes! If you are into souls-like games and a creepy story line, Bloodborne is exactly what you are looking for! It has already been six years since Bloodborne has been released, and I am still hoping for a Bloodborne 2! In this game you hunt creatures in a foul nightmare where death is not the end but just the beginning! Learn from your mistakes and find out the truth while gaining insight on what is happening but be careful who knows what will happen when you gain to much insight!
What did I think before playing Bloodborne
For this review, I revisited Bloodborne once more, but this time together with my wife. We take turns in who controls our character. The problem with playing Bloodborne a second time is that I knew exactly how and where to go. I already dreaded the encounter with the two shark monsters in the well. We decided to go for all three endings and to start with the true ending! My wife wanted to know more information, and thus we visited the PlayStation page!
https://www.playstation.com/en-us/games/bloodborne/
My wife was excited to learn that the game is more fast-paced than Dark Souls 3. She had a great time when beating up all those pesky invaders! We even decided to buy PlayStation+ for this game to access the online chalice dungeons! Eager to start the hunt, we started to create our character! We eventually managed to level this character to level 358!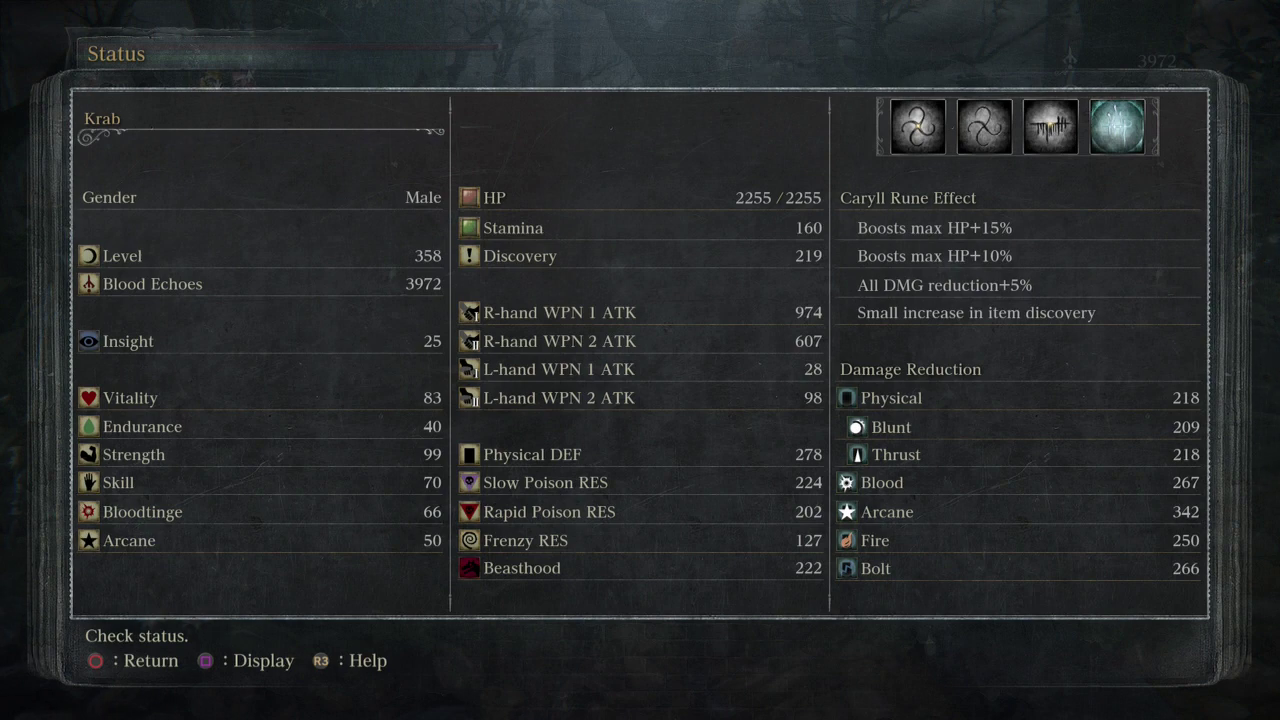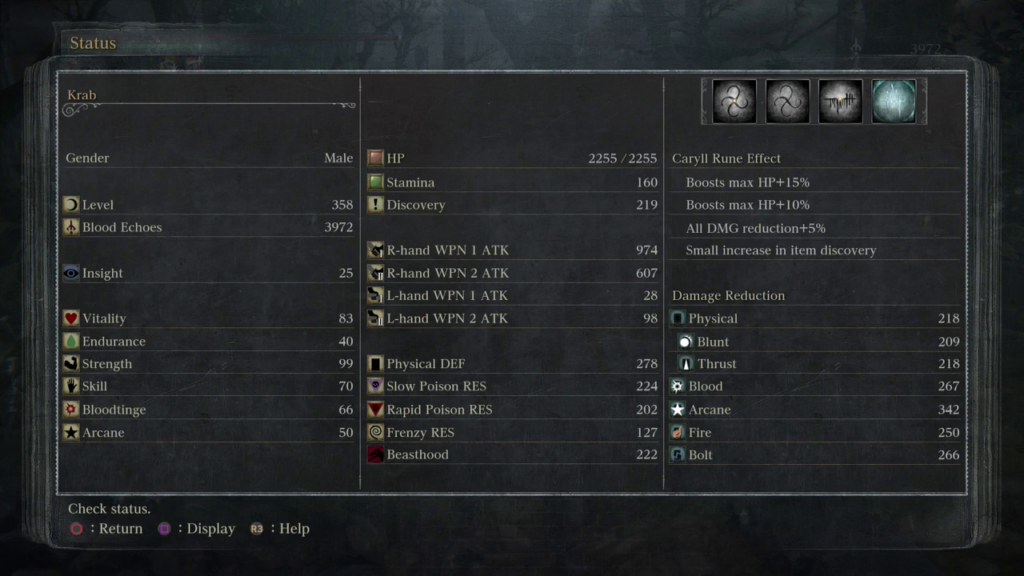 I rate Bloodborne with a 9.8 before playing.
My blood started to pump,  I was extremely excited to start Bloodborne again and this time my wife would join me! After the creation of the character, My wife started out and ran into the first wolf patient unarmed and killed him, but sadly, she got also struck and they both died together. You died!


The story of Bloodborne is an interpretive masterpiece but has never been explained. Lore is scattered across items and in many nooks and crannies.
Here is my take on the story after playing for over 400 hours of Bloodborne, I am sorry if any of this information is incorrect.
The story starts with three groups, the healing Church, the school of Mensis and the scholars of Byrgenwerth. There are other factions  but these three play a huge part in what happened in Bloodborne. All of these three groups are looking for ascension in some way, to reach ascension and become more wise, they turned to the great ones. Eldritch beings that no longer exist in this plane but have taken on other forms in a different plane. 
The scholars of Byrgenwerth are using insight to try and think as the great ones to finally try and become a great one. The healing Church uses blood from a great one that did not ascend, which they have captured. I am quite unsure what the school of Mensis does, except that they are a crazy cult who tries to breed a great one.
I rate the story of Bloodborne with a 10.
KOS grant us eyes, so we may understand the story completely!
Small description of the DLC in Bloodborne
If anyone is wondering who KOS is, KOS is the unborn infant of a giant slug like great one that washes ashore in a fishing village. The people drink the blood of this great one, which is infected and turns the villagers into monsters. KOS is an extremely powerful great one and traps them in an eternal nightmare for this atrocity.
Bloodborne starts with a small intro cutscene where you get to make a character and immediately get slaughtered by a patient wolf because you are unarmed. After your death you will be transferred to the hunters dream where you will be armed with a trick weapon provided by the messengers. Trick weapons can change depending on what you need in the current situation.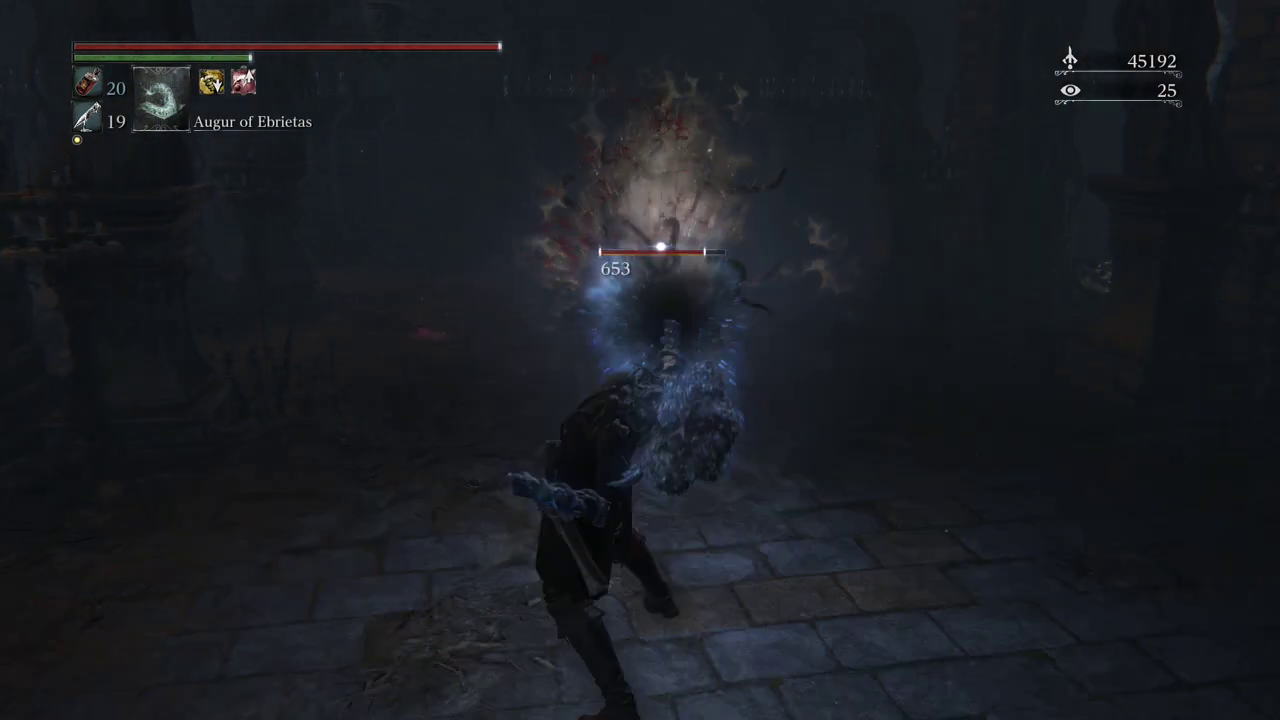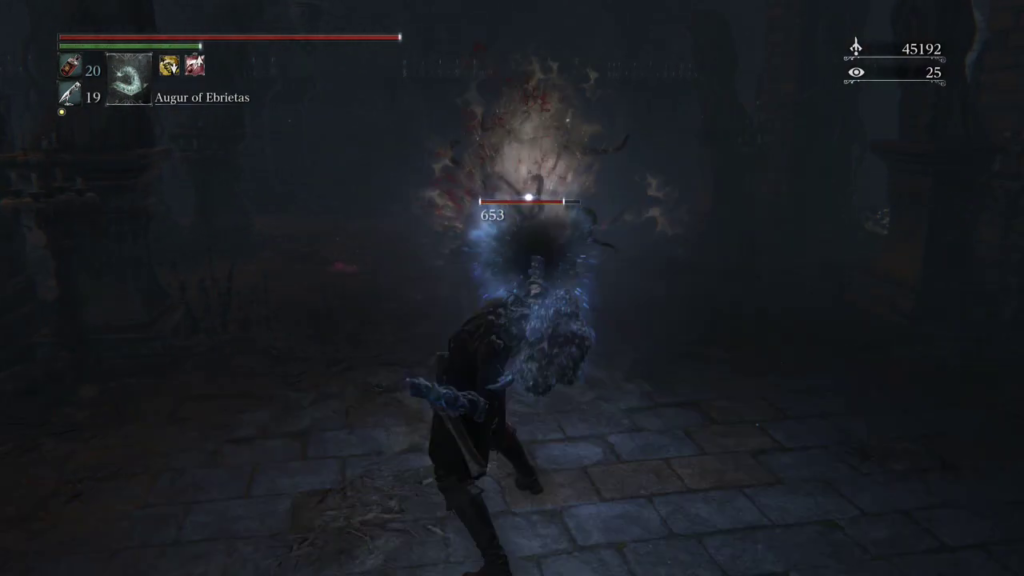 Once you have a weapon and looked at some hints given by the messengers, you can start your adventure. Bloodborne starts quite linear, but opens up more later in the game. Your goal is to start with collecting blood echoes and insight. Once you have collected insight, you will be able to use the doll in the dream to level up. If you die when holding blood echoes, you will lose them all. If you manage to retrieve the echoes, you had luck, however if you die, you will lose them all permanently. 
Later in Bloodborne you will find chalices which you can use to create random generated dungeons. You can also enter glyphs if you have PlayStation + to enter dungeons that other people have created. In these dungeons you can find runes to upgrade your character and upgrade materials. Next to your trick weapon you can also wield a gun if you are more into magic, you can invest in the arcane stat. To use magic, though, you will need to find the appropriate items!
You can also buy items in the hunters dream if you acquire the right badge. You can either spend insight or blood echoes. Each armor is good for something else, in Bloodborne you do not equip armor for physical defense but rather for elemental defense or to prevent status ailment. Enemies will take a huge chunk out of your health bar when you get hit, but in Bloodborne you have a way to get some of that health back. This system is called Rally and forces you to play aggressive, if you hit the enemy back after taking a hit you will regain health. Each trick weapon has a different rally rating and can be improved with runes!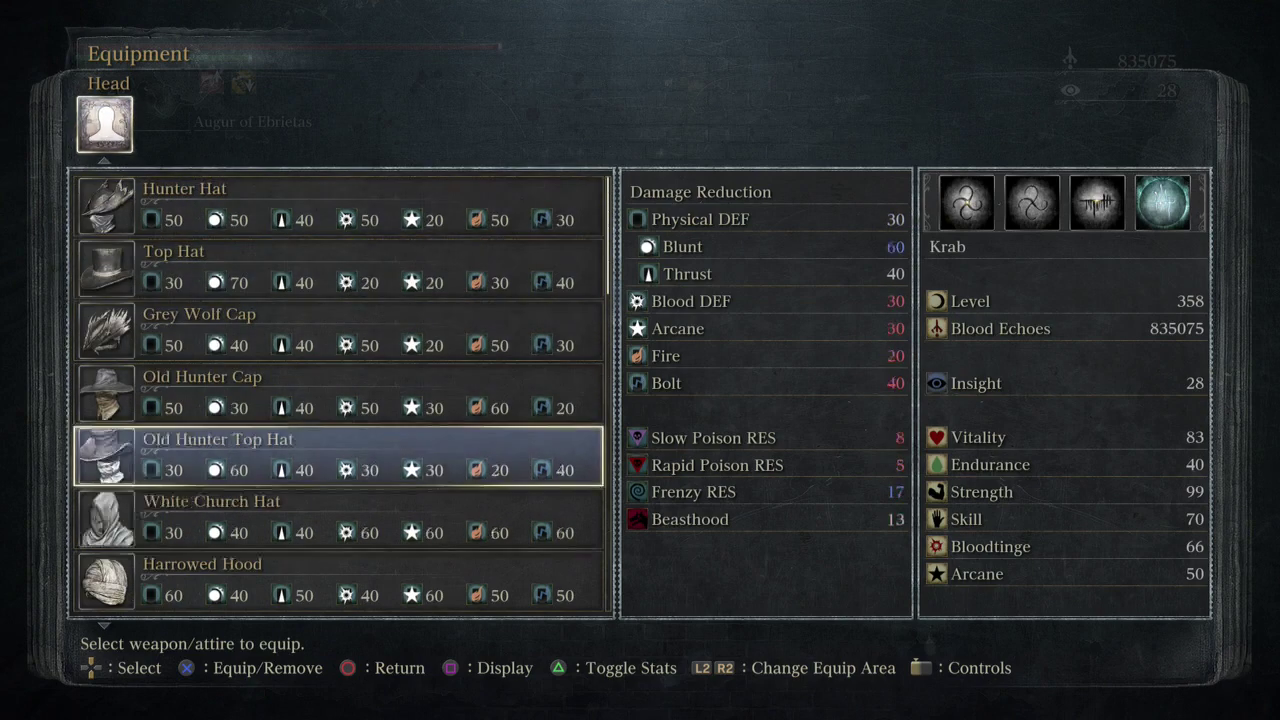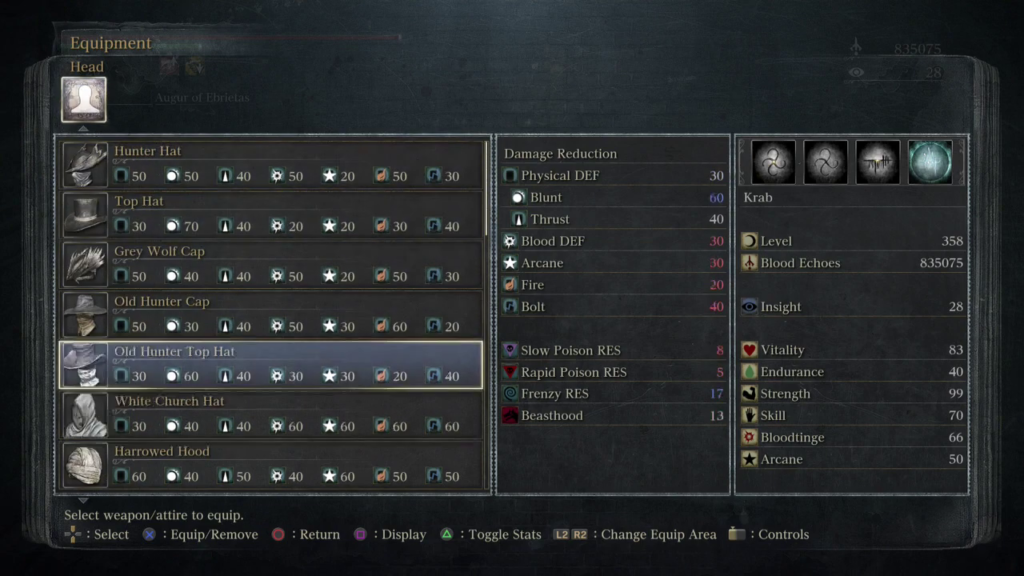 I rate the gameplay of Bloodborne with a 10
It is quite easy to say that Bloodborne is a masterpiece in which you can sink your soul and never come back from.
The graphics in Bloodborne are cruel and vicious as blood is splattered everywhere! Gory attacks that eviscerate the enemies that make you feel invigorated to heal yourself. Being chewed upon and swallowed alive by the monsters. Enemies that squirt out blood upon you, gargoyle statues that ambush you! Bloodborne has a great enemy variety, bloody graphics. All I have to say is that if you dislike horror or are scared quickly, this is not the place to be, the horrors of the night will make quick food out of you! The brainsucker will grab you and suck your brains out! 
Not only are the soundtracks perfect in Bloodborne, the theme of these soundtracks are perfect! Ominous music is playing everywhere, epic music for boss battles and much more. The sound effects are not only great but also needed in Bloodborne. If you take heed of all the sound, you might hear the enemy making sound behind that corner. Ambush the monster that is waiting for you around that corner!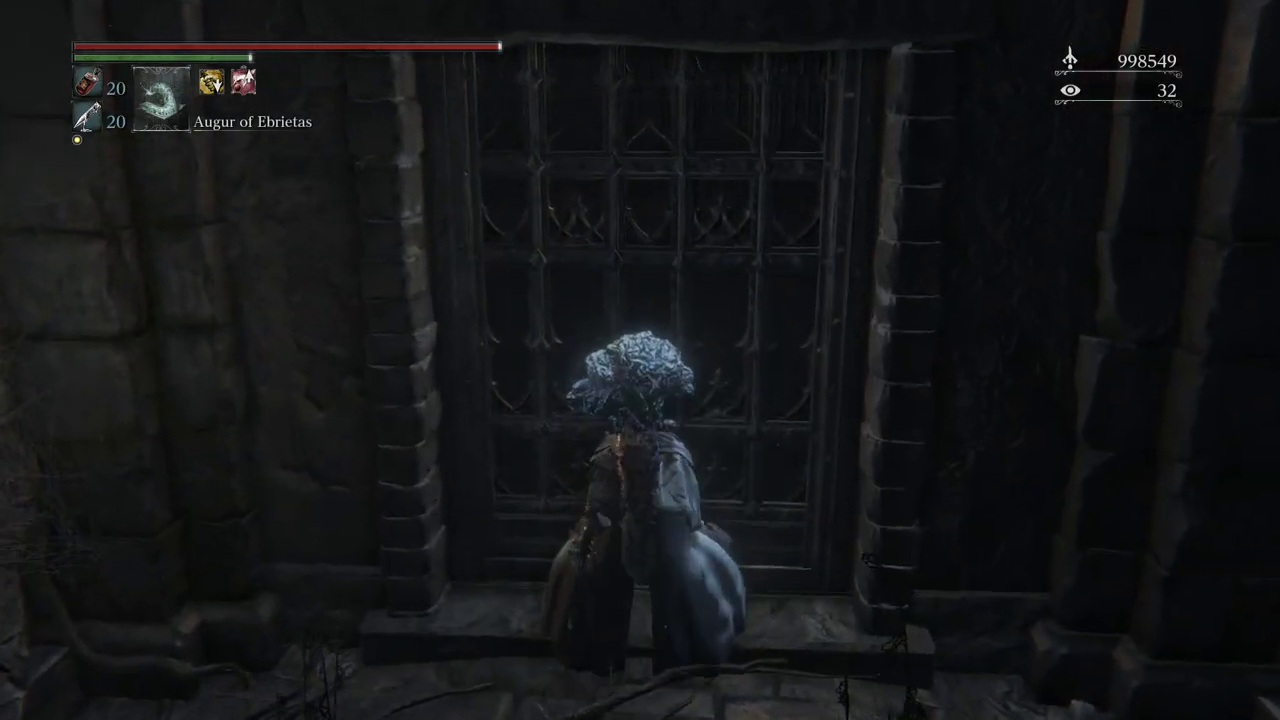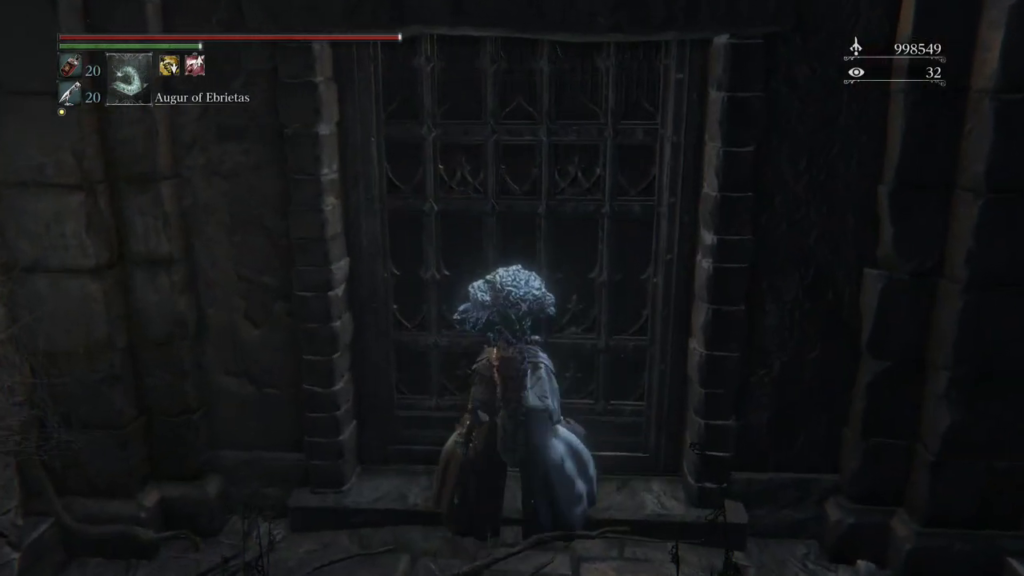 I rate the sound and graphics in Bloodborne with a 10.
That slurping sound from the brainsucker is one of the most horrifying sounds in this game. Remember, bring lightning to deal with these nasty creatures!
What did I think of Bloodborne after playing?
My wife and I had an amazing time while gathering all the endings in Bloodborne! We even leveled our character sky-high! In my previous save file I missed one boss, the queen of Yharnam but this time, while taking turns my wife and I took the queen down! We even defeated the chalice story dungeon without dying! And what is even better, we recorded the whole shebang!
My wife and I grinded hours upon hours while slaughtering many of the citizens of Yharnam. The monsters hiding in the chalice dungeons were also not safe as we hunted them down! My wife was thrilled and wants more games like this from the developers of From Software, luckily Elden Ring is around the corner. Yes, we are going to pre-order that game! My wife wants to kill more monsters, just as she slaughtered the queen of Yharnam!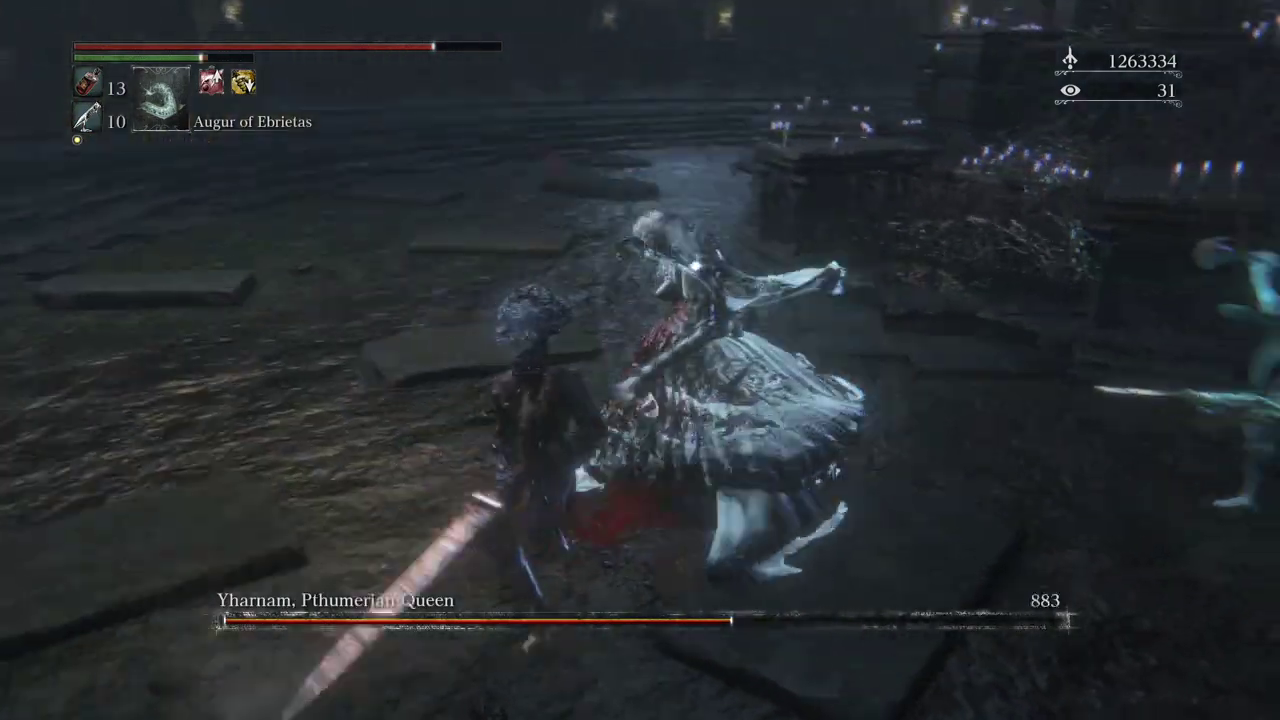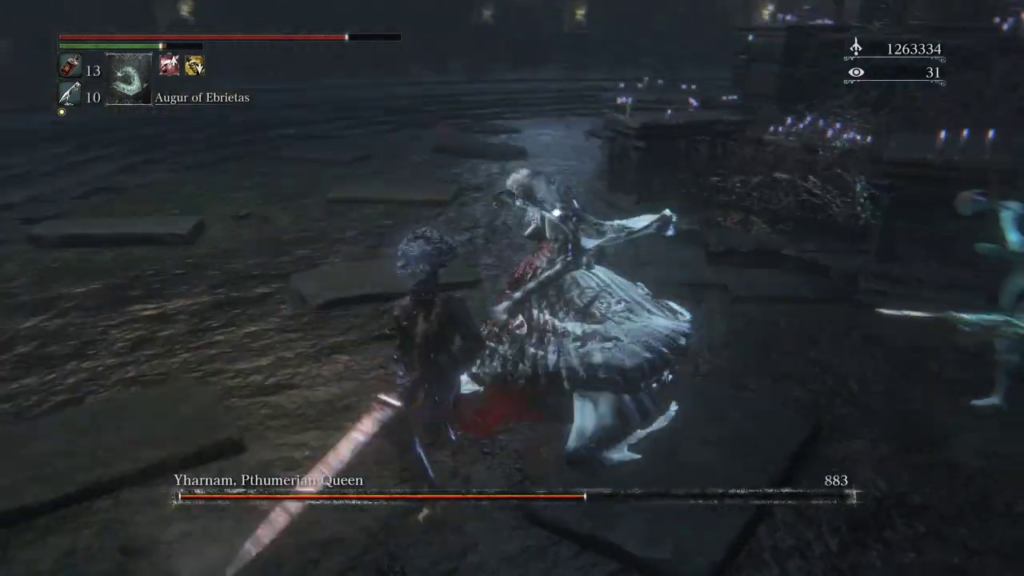 I rate Bloodborne with a 10 after playing.
If you like Dark Souls or souls-like games, this is the perfect game!


What are my personal thoughts about Bloodborne?
I am very glad to once again have played Bloodborne and this time my wife joined me! We had a great time taking turns while playing, please remember that in these games you need to fully trust your partner survives with the echoes! We both did die a few times, but never failed to find the blood echoes again!
Our personal rating of Bloodborne is a 9.7
We both had a great time because the mechanics are rock solid, the graphics and sound are also amazing. There are some minor graphical flaws, but they are easily overlooked and ignored.
After many years, I wanted to look if Bloodborne still holds up with gameplay and graphics. Easily said, this game is still amazing, and I recommend it to everyone that is looking for a challenge!
Let me know what you think of Bloodborne in the comments!
I hope you enjoyed reading this review, I hope to see you in the next review!
If you liked reading this review, maybe you would like to share this review with your friends!