This week we are going to put Duke Nukem in the spotlights on Reviews by Supersven, we are going to start this week off by reviewing one of the Duke Nukem expansions from Duke Nukem 3D called Duke it out in D.C. This game has references to many pop culture movies and series like X-Files. There are ten levels if you include the Top Secret level, yes that is really how the level is called!  The aliens have invaded and taken over the White House and other government related buildings, they have also taken Bill Clinton the president hostage! There is only one man that can save the president, Duke Nukem off course!
What did I think before playing Duke it out in D.C?
There is one thing that jumps out when I am going to play a Duke Nukem game. The phrase of Duke Nukem *I have balls of steel*, but in all seriousness. Everyone that grew up with Duke Nukem loves his old-school games! This time we are going all the way back to 1997 when Duke it out in D.C was released by Wizard Works. Duke it out in D.C is included in the Megaton edition on Steam, which I own, but you sadly cannot purchase this bundle or separate expansions anymore on Steam. You might need to jump through some hoops to play this game. For the best place to find information, we are going to the fandom page of Duke it out in D.C
https://dukenukem.fandom.com/wiki/Duke_It_Out_In_D.C.
There is a lot of information to be found on this page. You will even find guides to all the levels and what kind of inspiration the developer had when creating the levels! Duke it out in D.C has more puzzle elements than other Duke Nukem games but do not worry, there are enough aliens that need  a beating!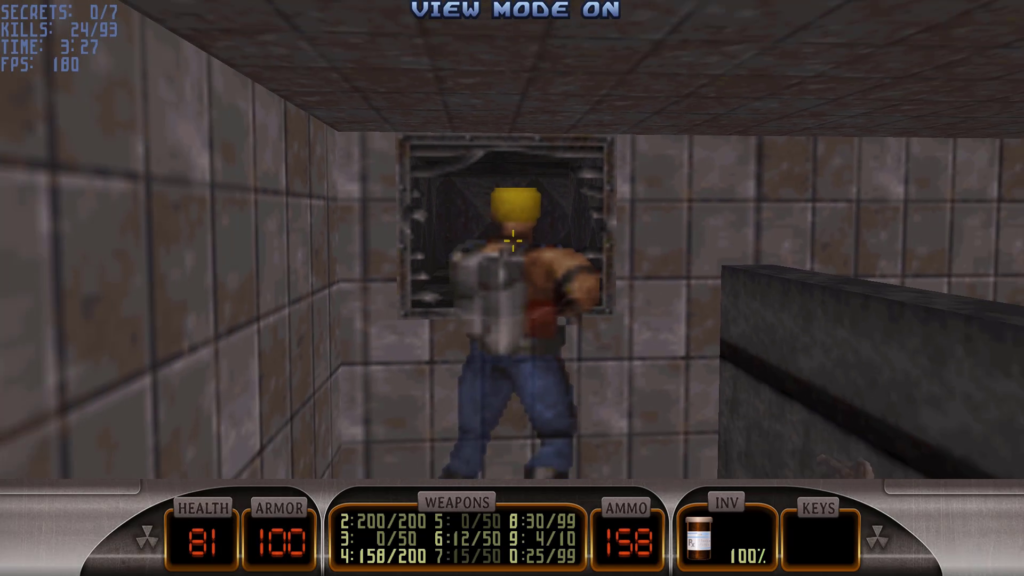 I rate Duke it out in D.C with a 9.3.
It has been a while since I have finished this expansion from Duke Nukem, and I was wondering if I still knew some solutions to the puzzles! I got ready for backtracking as these maps can be convoluted! 
Once again the invaders are back on Earth, but this time they have captured several key monuments and government buildings! Even the President has been kidnapped, there is of course only one human that can stop the invaders! Duke Nukem flies to Washington D.C in his helicopter and lands at the White House, only to find out that aliens are swarming all over the place. Time to bust up some aliens!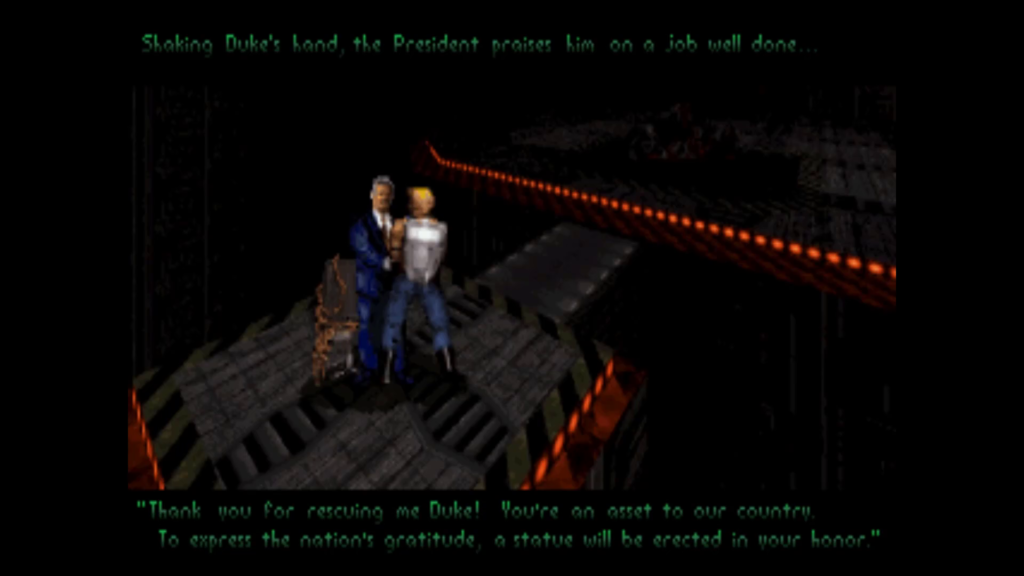 I rate the story of Duke it out in D.C with an 8.0.
It is the same old story that we love, but nothing new. Duke comes to beat up some aliens!
They once again have found another reason for Duke Nukem to blow up alien scum!
As Duke Nukem is a first-person shooter, you can expect a lot of shooting at aliens. If you are out of ammo, you might also use your mighty foot to kick them! There is a great arsenal of weapons for you to find and use! My favorite weapon is of course the shotgun! If you get hit by the aliens you can use a med kit to patch yourself up, these are usually scattered around the levels! There are also portable med kits, which can come in real handy when you find yourself in a pickle!
There are other useful items that you will find along the way like scuba gear for diving or rubber boots to walk on electrical metro lines. In Duke it out in D.C you will find more puzzle oriented levels than in the original Duke Nukem 3D. This also means that you might need to backtrack more than you would expect from a Duke Nukem game. However, this also gives you the opportunity to pickup med kits that you did not need before!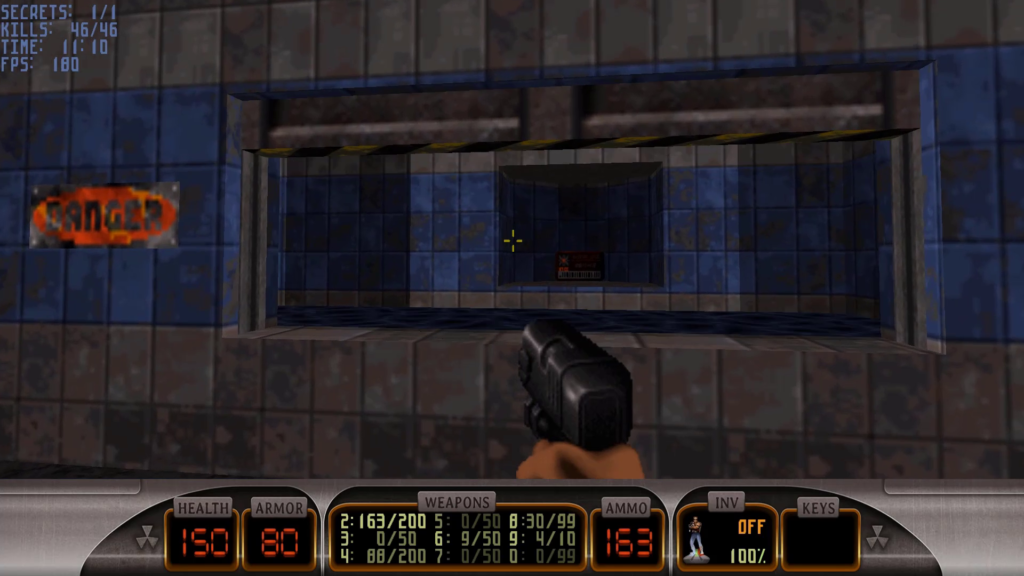 Where you needed to find the blue key card first in the original Duke Nukem 3D, you might need to find the yellow key card first! If you do not like solving puzzles in a first-person shooter games, this might not be the right Duke Nukem expansion for you. The maps that you will encounter are large and can be quite confusing. For example, the Smithsonian terror is a level that you will either hate or love because of this reason
I rate the gameplay of Duke it out in D.C with a 10.
Even though there are multiple puzzle elements in Duke it out in D.C that got me stumped for a while, Duke Nukem is always amazing, especially because of the voice actor!
For the graphics we have to travel back to the year 1997.  For 1997 these graphics were state of the art and to be honest, the graphics still hold up in this current gaming era. There is even a third person mode if you are more into that. There is even a useful map that will guide you through the level!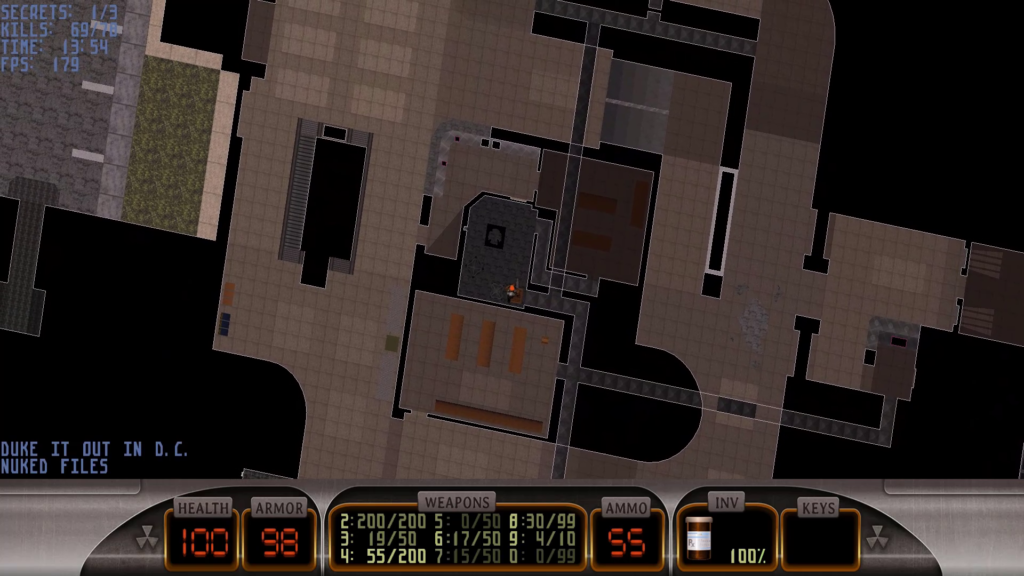 The soundtracks are astounding along with great sound effects. Who does not love Duke Talk? Duke Nukem is simply amazing with great lines! Let god sort them out!
I rate the sound and graphics of Duke it out in D.C with a 10.
When this game came out, you would be mind blown by the accuracy that the levels have! Most of the levels are exact replicas of the real life buildings, except that in real life they are not invested with aliens most of tthe time.
What did I think after playing Duke it out in D.C?
I had a great time when re-playing Duke it out in D.C. Some levels have complicated puzzles, and  it took me some time to figure out the solutions, but it is all worth it in the end! The hardest level in my opinion is the Top Secret level. I really dislike those exploding drones! I have to admit, time traveling for a key card is kind of far- fetched.
This expansion of Duke Nukem 3D is a one of the best ones and uses huge maps with puzzles. There are also some great mod conversion that use elements from Duke it out in D.C. The references to other movies and series are great, The truth is somewhere!
I rate Duke it out in D.C with a 9.2 after playing!
Duke Nukem is always amazing no matter what expansion you play!
What are my personal thoughts about Duke it out in D.C?
There is only one thing that I want to say for the personal section of this review. This game is simply perfect!
I rate Duke it out in D.C for my personal rating with a 10.
If you are interested in Duke Nukem just like me, this is the perfect Duke Nukem expansion for you!
Let me know what you think of Duke it out D.C in the comments!
I hope you enjoyed reading this review, I hope to see you in the next review!
If you liked reading this review, maybe you would like to share this review with your friends!