Today we are going back in time to review another MMORPG game that has no microtransaction nor is it pay to win. However, this MMORPG is very old, maybe even the first one to exist! It is no longer a massive game with a lot of people, but there is still quite a large community! We are talking about the game Well of Souls, there are even multiple worlds like Castlevania, but we are going to delve into the standard world that is called Evergreen. There is a small story, but I will not feature it in this review, your goal is to defeat the Black Wrath, but he is level 200, while your max level is 100.
What did I think before playing Well of Souls?
It has been literally decades since I have played Well of Souls, I was around 7/8 years old when I first played this game. Back then, there were a lot of people online in the world of Evergreen. Skin swapping was all the rage, as you could select how your character would look. In the game I recently reviewed Maplestory which is also an MMORPG and Jurassic World the Game  that also has a massive player base, these games have pay to win elements, thus I was thinking to myself, what MMORPG has no pay to win elements! I remembered Well of Souls and lo and behold it still exists after all these years, the servers are still online! To refresh my memory, I went to the official Well of Souls website!
The Well of Souls Website
http://www.synthetic-reality.com/wosHome.htm
There is a lot of information to be processed for you on this website, you can find how to boot up the game, this is simply done by downloading the setup and booting up the game. My wife was very intrigued and wanted to see this new but old MMORPG as well, thus we decided to embark on this adventure together!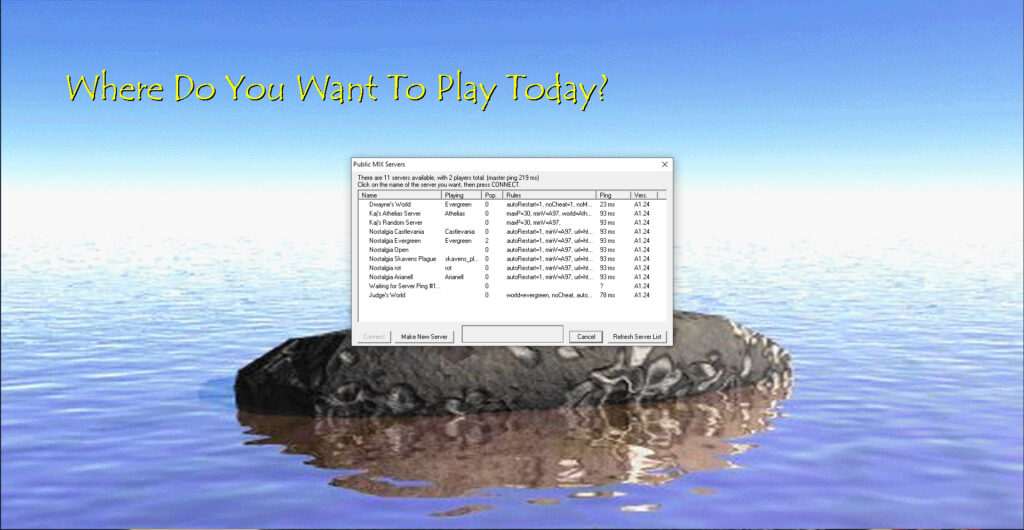 I rate Well of Souls with an 8.7 before playing.
How amazing is it that this game still exists? I wonder if this game would still be fun or if it is just nostalgia glasses!
Before you can start your adventure, you will need to select a job. You can either be a magic user or a physical character. There are jobs that use both! You will also be greeted by a screen in which you need to distribute attribute points! It is wise to not put points in agility for either magic or physical. You can also select a cool looking skin, if you want you can also download new skins! You will have many and I do mean many skins to choose from!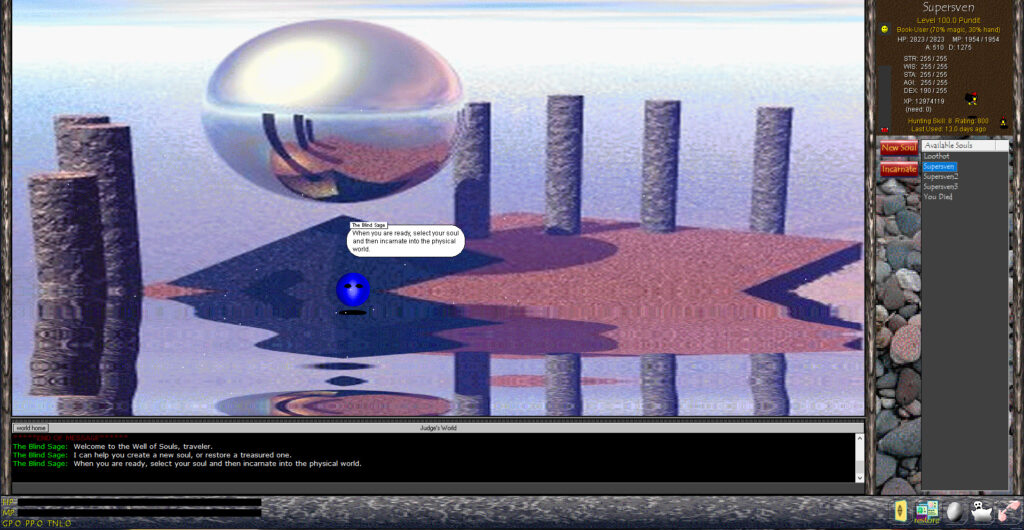 Well of Souls offers a lot of gameplay options despite the game being almost as old as I am. Combat can occur when you travel in the over world map or in a dungeon. You will need to wait until your character is ready to strike, which can be seen by looking at your mouse cursor, if it smokes, you are ready to attack your opponent. In the beginning you are weak and can only kill  the green jellies!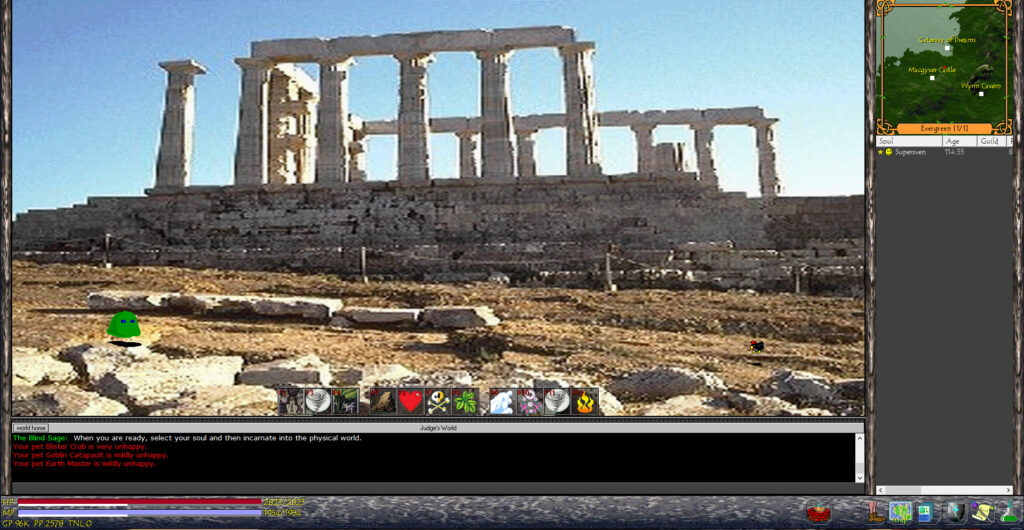 If you happen to get killed by a green jellie, you will lose some experience and participation points. Wait, what are participation points? Each time that you attack, you will gain participation points depending on your wisdom stat, thus mages will gain more! Participation points are needed to better your proficiency with a weapon or element. These are also needed to learn new elemental spells. I would advise you to learn to heal as soon as possible!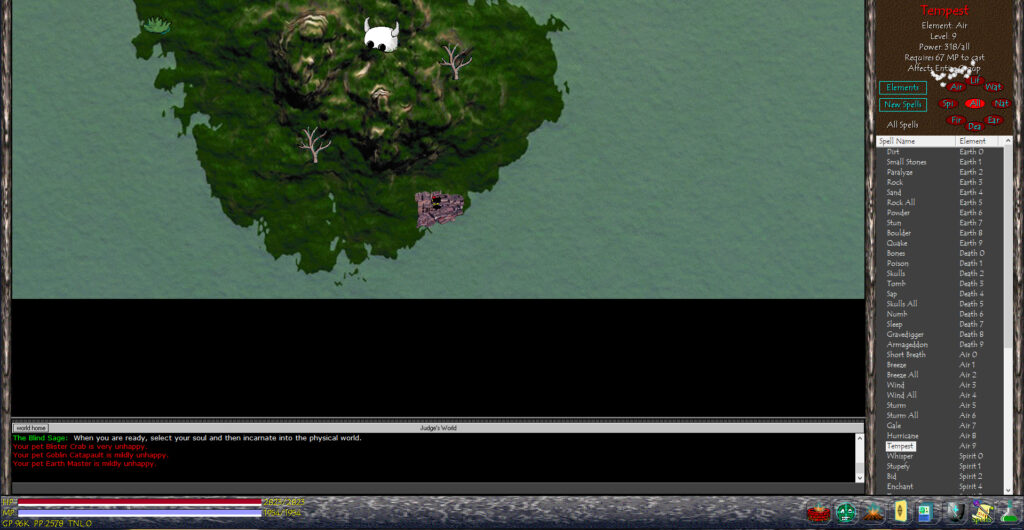 You will also need gold to buy better equipment, there are many shops scattered across Evergreen, you will need to find the city that offers equipment that you need and fits your level. There are also quests to complete, but these can be quite obscure to find or complete, since a real quest system did not exist yet when Well of Souls was created. These quests can be difficult and need to be completed for the best equipment, this is called the soul equipment. You need the soul equipment to defeat the Black Wrath!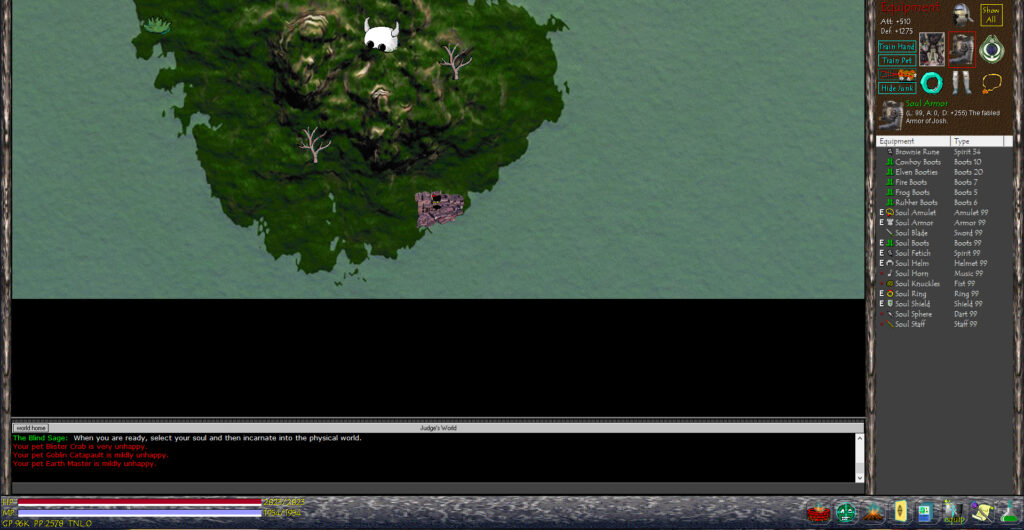 There is even more to do and discover in Well of Souls, if you gain more proficiency in the spirit element, you can capture a pet! This pet can help you in battle, you will also need to feed this pet and keep it occupied! Do not forget to name your pet! There are also missions that you can accept, these are basic fetch quests, but they will net you nice rewards. There is no quick button to pay money, grinding only! However, for people that do donate to the Well of Souls owner who keeps the server running, get a golden soul. This is mostly just for decoration purposes!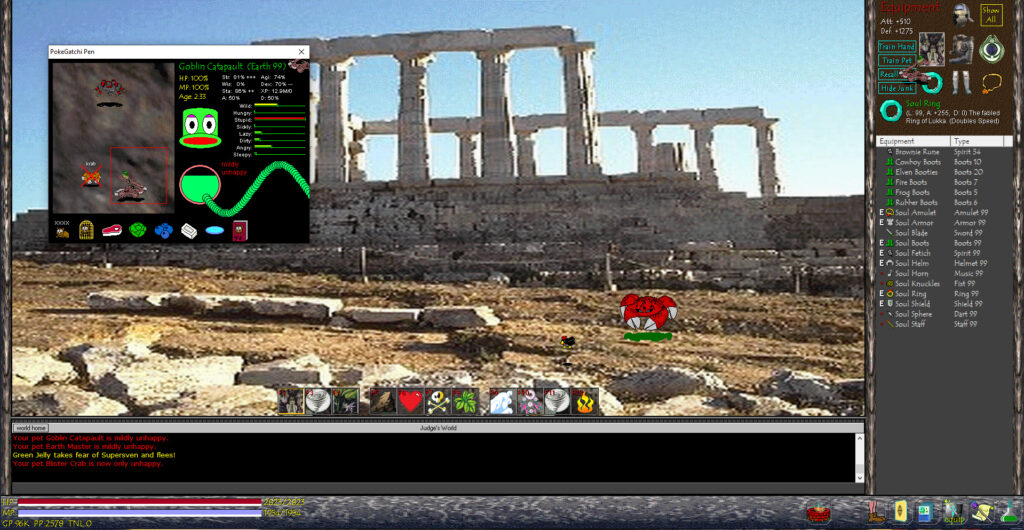 I rate the gameplay of Well of Souls with a 9.0
Why this high rating? This game is very old, the gameplay is still very fun and a lot of the systems have been used by different developers in new games! You can easily sink in a lot of time in this game, however there is also an easy pause button, just put down a camp fire and leave the computer!
The graphics are ancient of course, the question here is, have the graphics aged well and are they still pleasant to look at? I find that the graphics and sprites do look a bit outdated but, these sprites are from an era that has long gone by. The slobber looks great, the expressions on enemies are also great and there is also a  big variety on enemies. Each spell has a distinct look!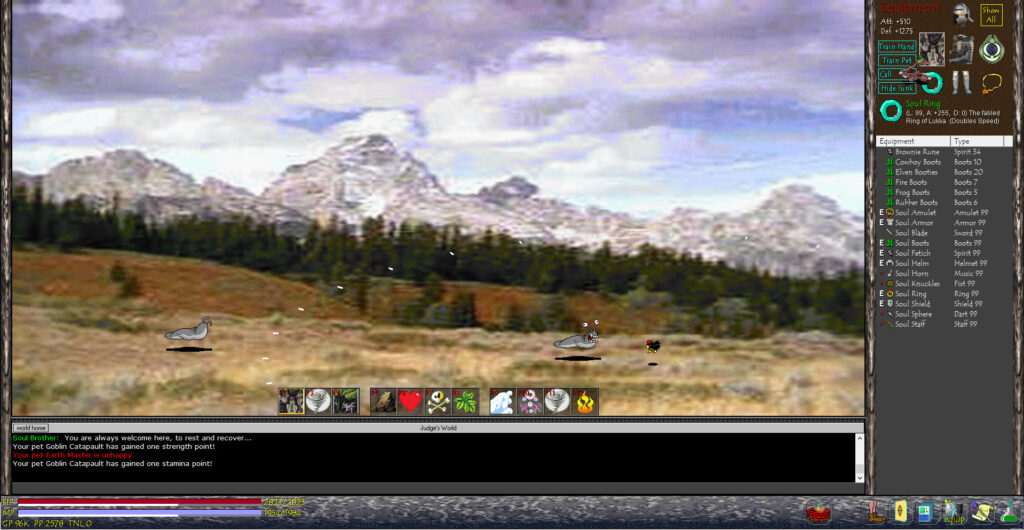 The soundtracks are great, there are more than you would expect, but the key focus in Well of Souls is the sound effects. The sound that your character makes when you get hit makes me laugh a lot, it  sounds hilarious!
I rate the sound and graphics of Well of Souls with an 8.2.
The graphics have aged well and still work, it even has a form of nostalgia for some older people like me.
What did I think after playing Well of Souls?
For making this review, both my wife and I tried out different jobs. The characters in the YouTube video are our main characters! I used a book user as and my wife had a knuckle user. We even defeated the Black Wrath after collecting many of  the soul equipments. We also bought a lot of seeds, which you can use to permanently upgrade your attributes! Furthermore, we had a lot of fun, more than my wife expected!
We had some help from the community to understand some perspectives of this game. Since I had already forgotten most parts of it. I was glad to still see some people online now and then, but it can be quite empty for an MMORPG. It is awesome to see how it started out and what MMORPGs can do now, however the pay to win in current MMORPGs can be deleted if you ask me! The seeds are needed to reach max stats in all your attributes!
I rate Well of Souls with a 7.8 after playing.
It is a great way to live in the history of gaming MMORPGs. I would advise if you like games where you grind to level up and gather equipment to play Well of Souls! This game is also free to play!
What are my personal thoughts about Well of Souls?
My wife and I had a great time when playing this game, we even started another world in Well of Souls, but there are just too many worlds! If you have a friend or family member, this is a great game to play together! You can also play in single player mode if you prefer that!
My personal Rating of Well of Souls is a 9.0.
If you like games that has you battle a lot of different enemies while you level up, the Well of Souls might be a match for you, it is even free to download!
Let me know what you think of Well of Souls in the comments!
I hope you enjoyed reading this review, I hope to see you in the next review!
If you liked reading this review, maybe you would like to share this review with your friends!