Christmas is right around the corner and that means a winter review is here! What is better than Christmas with Duke Nukem? Today we will be looking at the authorized expansion of Duke Nukem Nuclear Winter. Is this a good expansion, or should you avoid it? This expansion is included in the Megaton Edition of Duke Nukem. There is a small story which we will go over in the story section of this review.
What did I think before playing Duke Nukem Nuclear Winter?
I was looking for a fun Christmas review, one of the games that I was looking for to review was Duke Nukem Nuclear Winter.  I always enjoy playing Duke Nukem games, as the reviews are also very fun to type.  This time we are going to blow up a few more aliens! For more information, we went to a fan page for Duke Nukem Nuclear Winter.
Duke Nukem Nuclear Winter page
https://dukenukem.fandom.com/wiki/Duke:_Nuclear_Winter
There is not much information except that this game is Christmas themed and that there are seven levels that you can play. Otherwise, there are a few new enemies in the form of elves, these can be killed! Even though this seemed like a fun game, it also seems like one of the smaller expansions.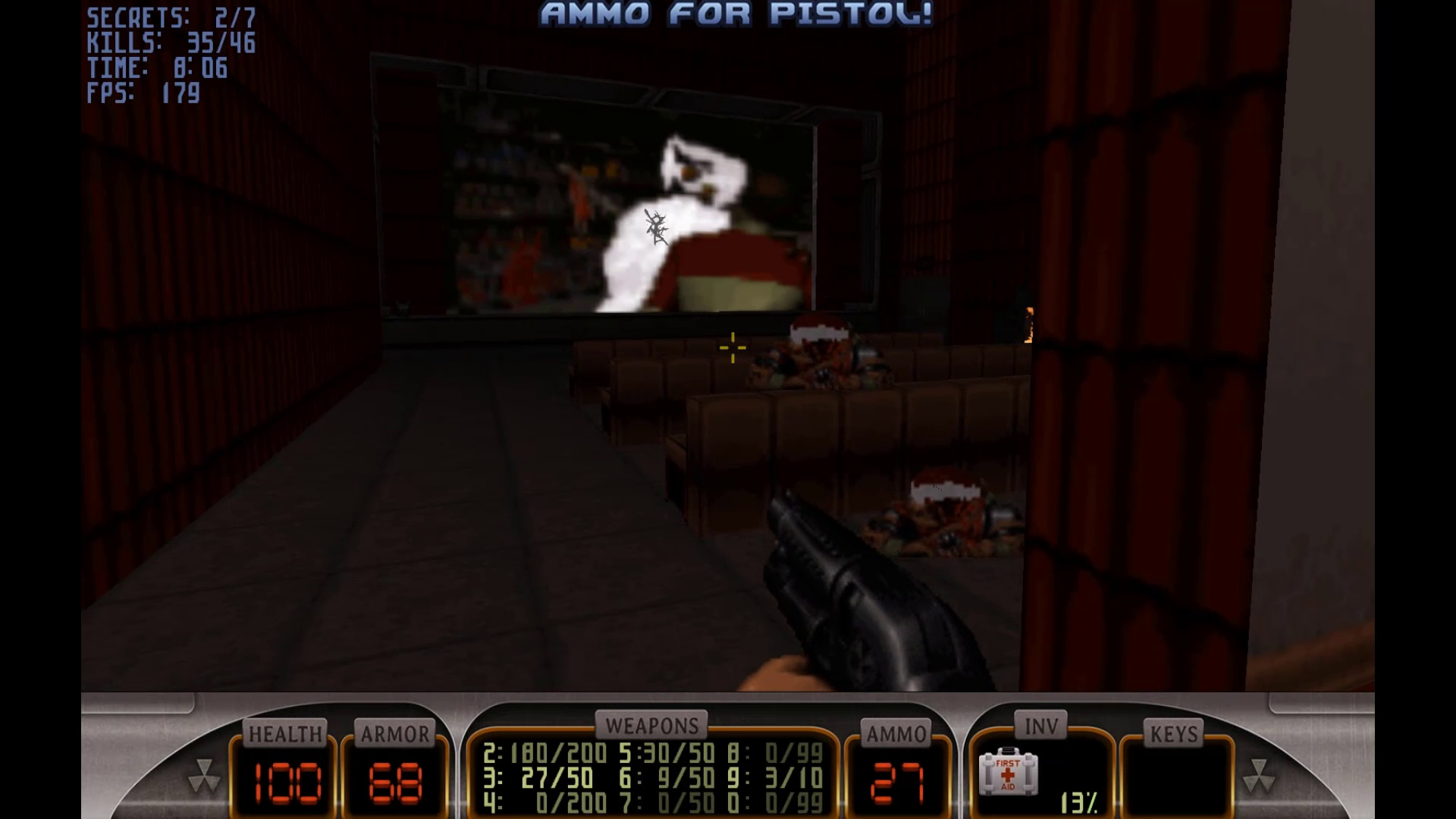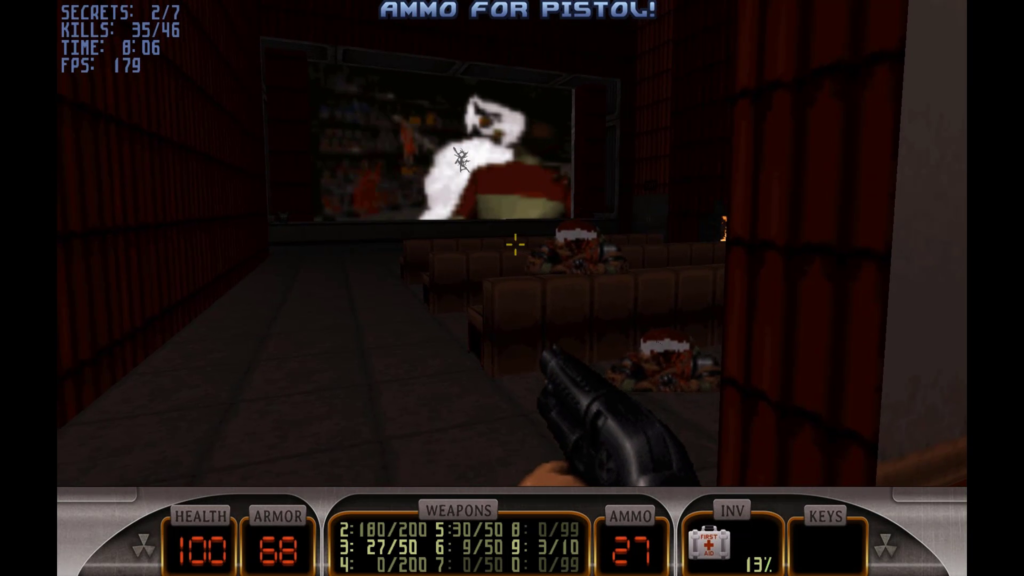 I rate Duke Nukem Nuclear Winter with a 7.2 before playing.
While the Christmas themed levels are fun, it seems like one of the worse expansions.
Santa Claus has been kidnapped and brainwashed, all the elves are helping the aliens, they are trying to ruin Christmas and there is only one man that can save Christmas, Duke Nukem!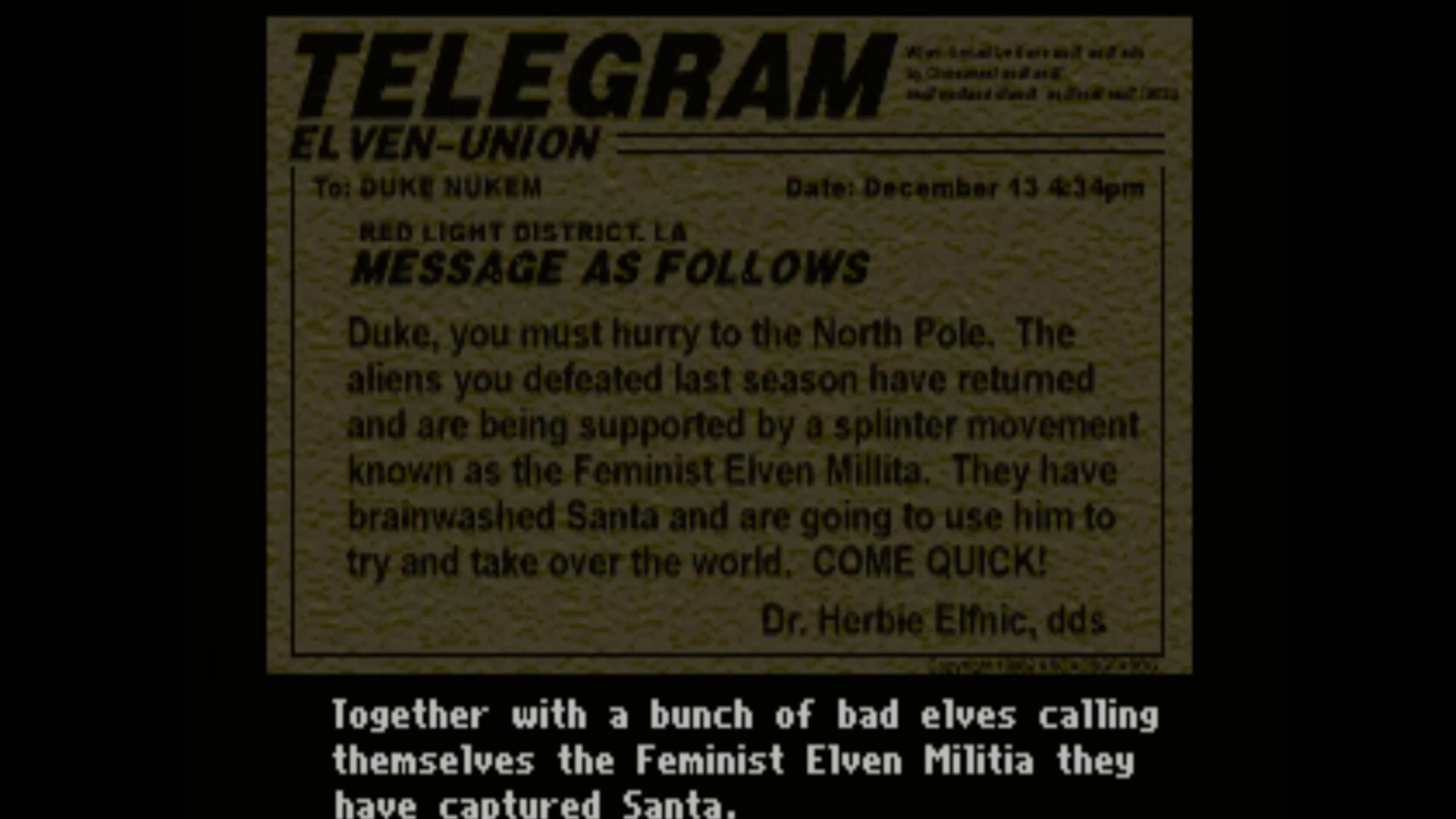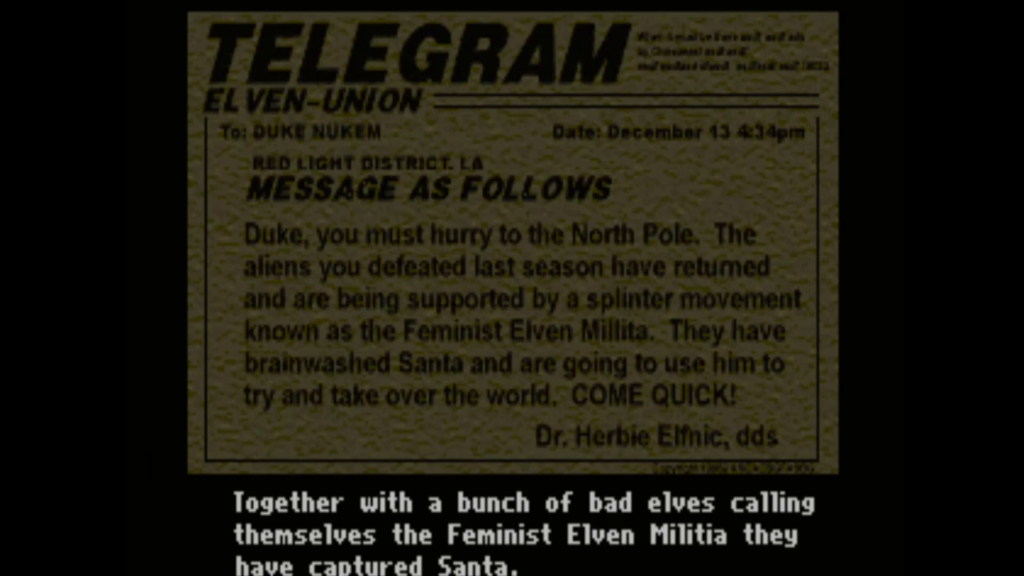 I rate the story of Duke Nukem Nuclear Winter with a 4.0
This story is quite horrible but still it is a small story for Duke Nukem.
The gameplay in Duke Nukem Nuclear Winter has a similar style compared to other expansion. You will need to find guns and once again blow up the invading aliens! There are new enemies that you can kill, some of these new enemies are snowmen! They will toss out snowballs to you, I think these have bricks in them since they will hurt you a lot!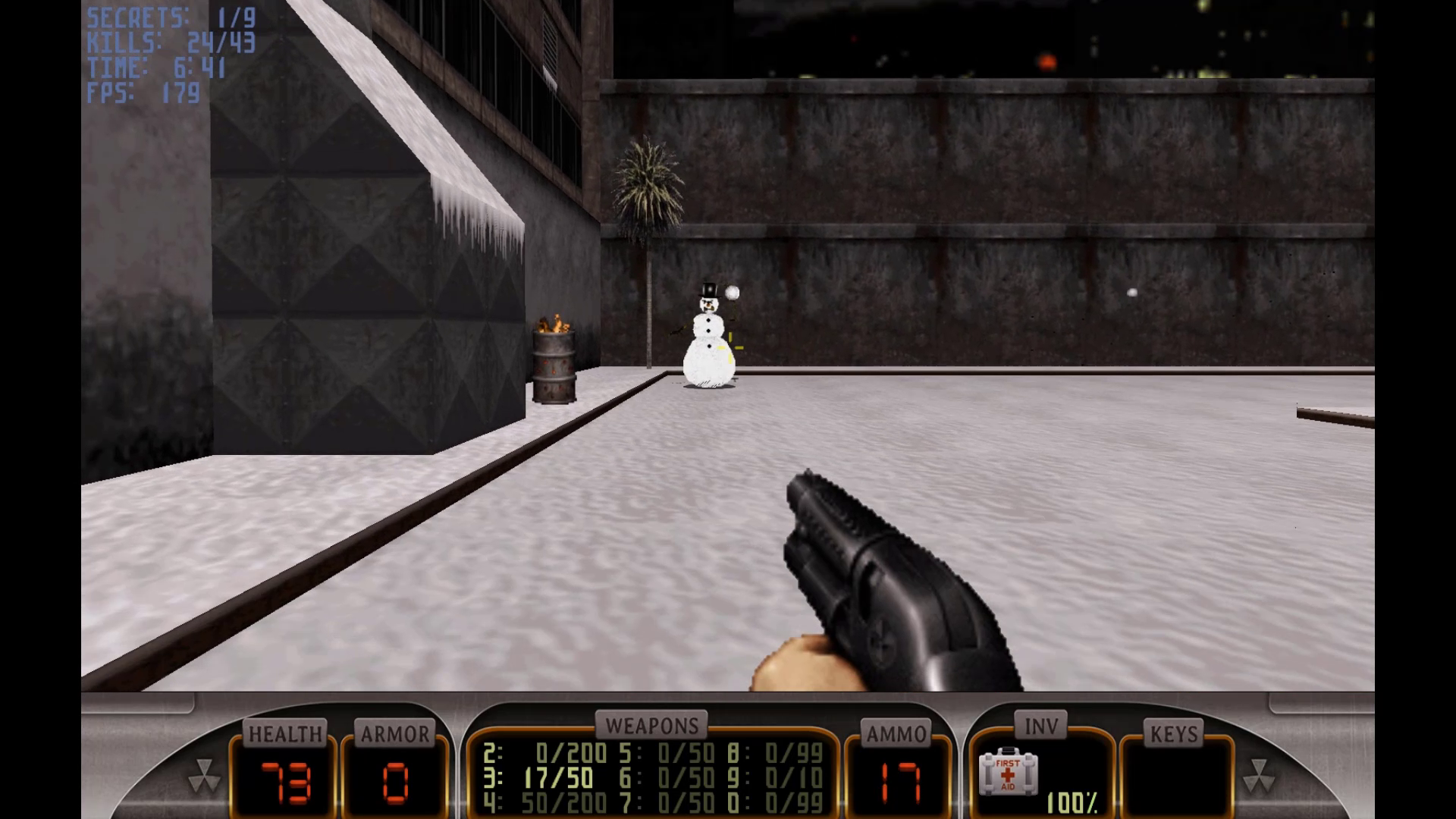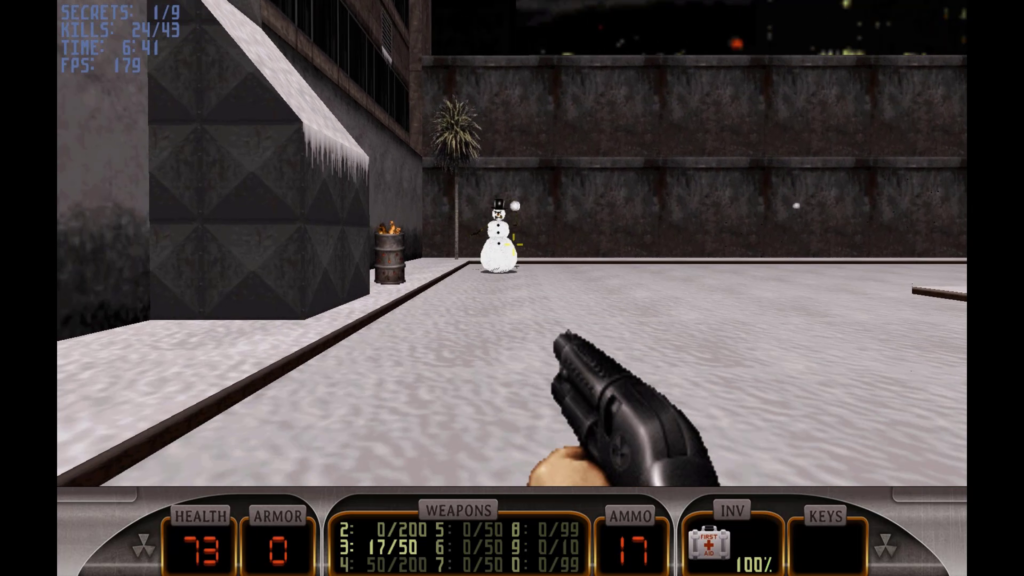 This expansion does have some awesome levels, like the land of the forgotten toys, which has Easter eggs in abundance! One of these Easter eggs that can be found is Super Mario or even a piece of Doom! The theme for the most levels are filled with snow but repurposed levels with recycled graphics.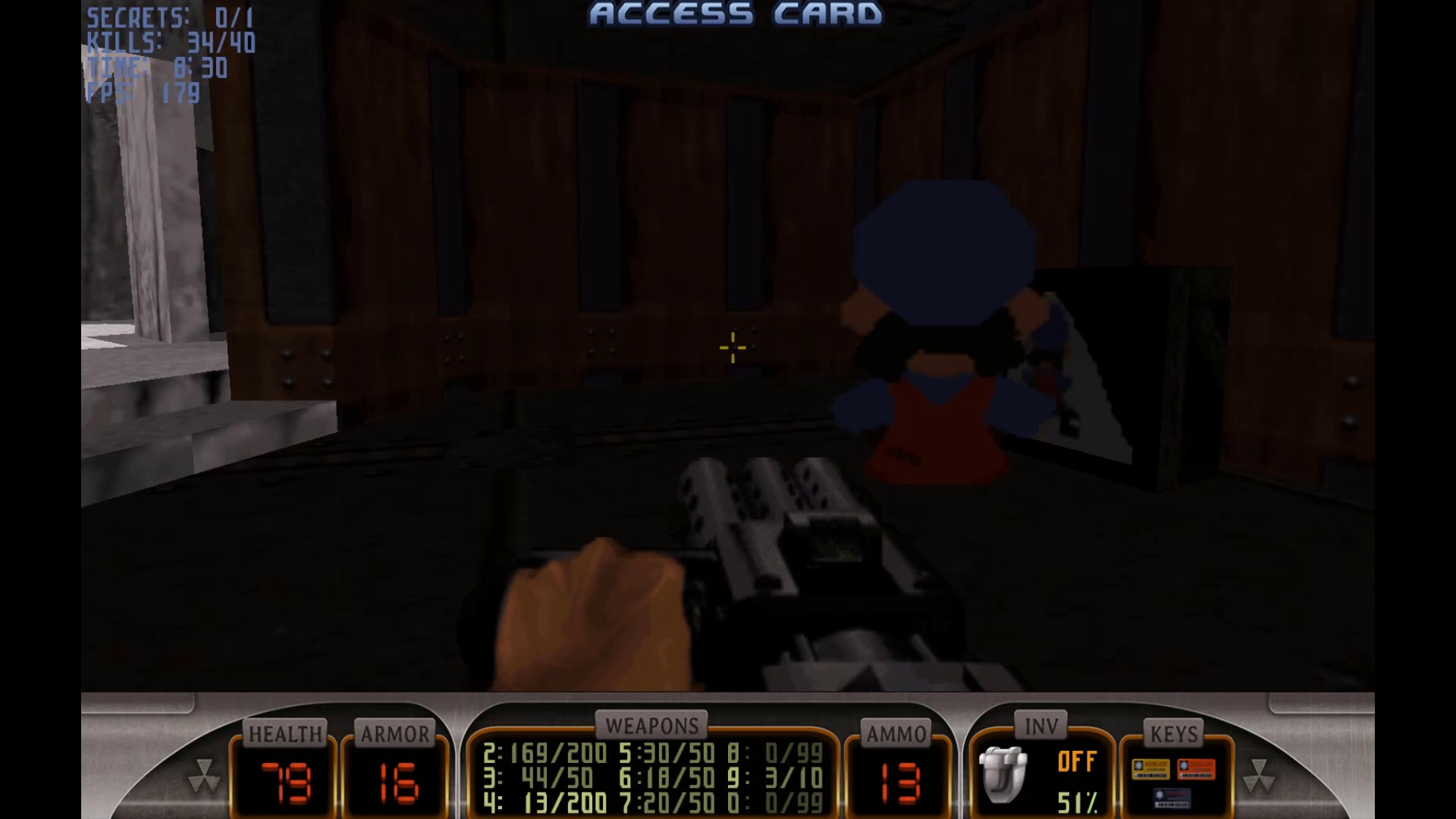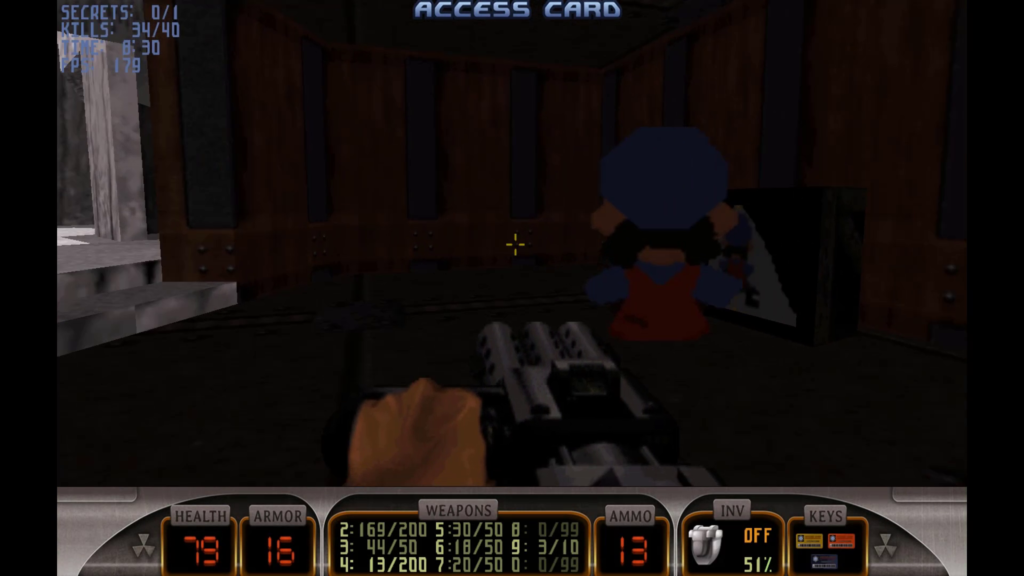 I rate the gameplay of Duke Nukem Nuclear Winter with a 7.0
While the expansion is fun, you can easily clear this game in a few hours if you play casually!
The graphics are what you would expect from Duke Nukem 3D and it being an authorized expansion. The new enemies look fun, especially the snowmen that attack you, however the repurposed levels are less fun. If you enjoy the usual graphics, this will appeal to you.
The soundtracks and sound effects are what you would expect from Duke Nukem  except for a lot of soundtracks sound like Christmas songs, however there are no new one liner as the voice actor was not informed off this expansion when it was made. The sounds can also be very loud or quit all of a sudden.
I rate the sound and graphics of Duke Nukem Nuclear Winter with a 6.0
I would have expected more from this expansion.
What did I think after playing Duke Nukem Nuclear Winter?
The first two levels are reskins of normal levels, but they do have different enemies, the snowmen are annoying when you do not have the right tools to take them down yet. There is also an expander weapon later in the game! The elves with chain guns are much more efficient with damaging you compared to assault troopers!
The most annoying thing in this expansion are rooms filled with traps, loads of traps! You better be careful where you are going, or you might get blown up! All the elves can drop gifts, these can contain armor, health or even bullets! Make sure to unwrap your gifts!
I rate Duke Nukem Nuclear Winter after playing with a 6.8
The gifts that enemies drop are a nice touch, especially since the gifts can contain useful loot!
What are my personal thoughts about Duke Nukem Nuclear Winter?
I did like this expansion a lot, especially the new enemies! However, the people that sing are quite annoying, thus I kicked them into oblivion and behold, they stopped singing! Even Duke Nukem agreed that it was annoying!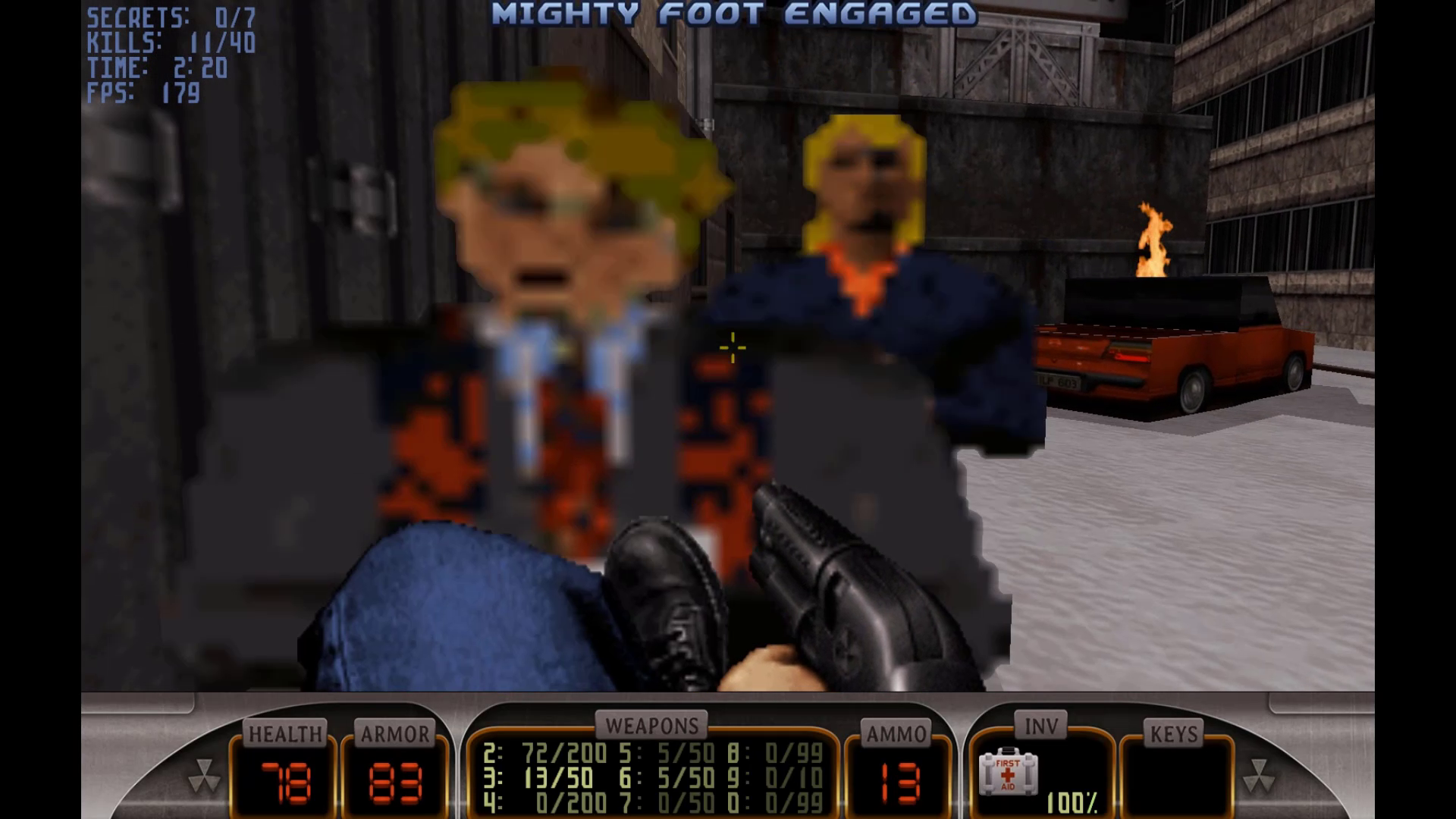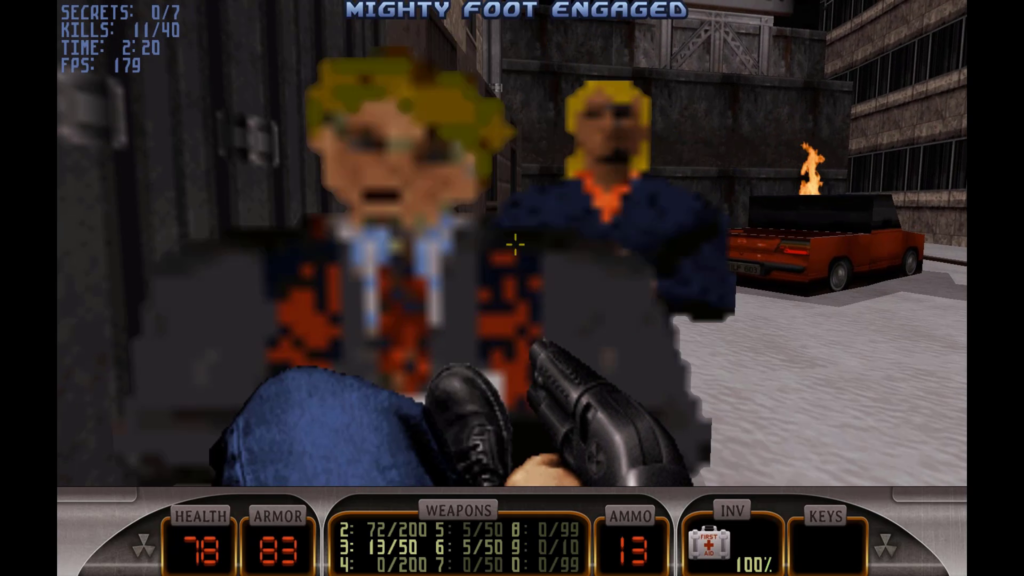 My personal Rating of Duke Nukem Nuclear Winter is a 7.9 
Even though this was one of the expansions that was less fun, I still had a great time blowing up elves!
If you are a fan of Duke Nukem, then you would love to play this authorized expansion of Duke Nukem! Time to blow up some elves!
Let me know what you think of Duke Nukem Nuclear Winter in the comments!
I hope you enjoyed reading this review, I hope to see you in the next review!
If you liked reading this review, maybe you would like to share this review with your friends!