I have found a new game on Steam hidden from my sight called Soul of Giga. I see it clearly now, a new monster collector game. In this game, the creatures are called Giga. This means that you need their help if you are to succeed in this game!
What team are you going to use, and how are you going to build your Gigas?
Why don't we start at the beginning? You play as Arc the chosen student of the Giga clan. Thus you are the only one that can rejuvenate the land!
Evil has swarmed over the land and Gigas are being used as weapons. This is something you cannot abide by. You must build your own Giga team and destroy the roots of evil!

You will be able to choose from many different kinds of Giga. This means that you might need different elements.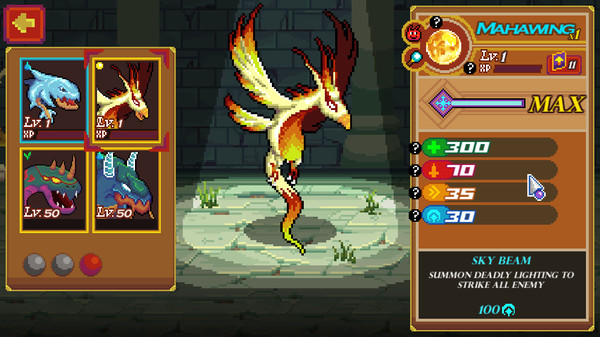 What else can you expect from the Soul of Giga?
– Collect different creatures called Gigas. these Gigas all have different elements and skills.
-After carefully selecting your team of Gigas, you can enhance them with new vessels or headgear, maybe even have a feast.
– Cross the lands and fight the empire. thus cleansing the land from evil.
– Beautiful pixel artwork and amazing music.
– Carefully select which kind of element Giga you will use, but beware every element has a counter.

This game released only recently as it came to my attention. You can collect a firebird or maybe even a shark! The map looked great to me and the battles look like armies facing each other!
You can find the game here, Wishlishting this game won't hurt anyone!
https://store.steampowered.com/app/1052970/Soul_of_Giga
The developer was so kind to give us keys for a giveaway which means that you can try to win this game!

We are going to promote the Soul of Giga starting at Saturday, March 13th at 8 PM C.E.T.

You can find the giveaways on https://www.reviewsbysupersven.com/giveaways

Are you interested in what the current giveaways are?
The political machine of 2020
Sponsored by Workbench Entertainment
Batman Teltale Series+ DLC
Sponsored by Nostalgia Addict Games

Two copies of Star Shift
Sponsored by Psychronic game Studios
Guts and Glory
Sponsored by TheSneak
Indivisible
Sponsored by Reviews by Supersven