Introduction
Not many people know of the existence of the Animal Forest Nintendo64 game, some people know but this game is in Japanese! Luckily there are multiple ways to get it translated, there are even some newer translations for systems like the Everdrive. I use a semi translated version but it works well enough. There are some glitches like missing a hand icon in the inventory screen or some lag but it is worth it. I have played this game before when it was full-on Japanese when I spent hours figuring out what each button does but if you like interacting with the non-playable characters you would need to get the fully translated one for the Everdrive or learn Japanese. The Gamecube version uses a lot of elements from Animal Forest but what are some of the major changes and is this game fun to play?

-You won't be able to visit the Able sisters so you will need to get all your clothes and accessories from Tom Nook.
– the wishing well is also not yet in the game. Instead, there will be a bell shrine.
– Some of the events are different since they follow the Japanese event calendar.
– There is also no museum so you can only sell fossils and other catchable animals or place them inside your house.
– It is really annoying that you cannot stack the stationary, each stationary will take up one slot.
– Insects are not restricted to a one-acre slot, a butterfly will feel free to fly to other places instead of being locked inside a square acre.
– When you drop fish to release them they make little jumps to the water instead of just jumping in the water in one jump.
– many items are different, there are different shirts like the N64 shirt. You will also find different carpets and walls.
– When entering your name or anything else you will encounter a dial system, in my translated version you will also find an ABC setting to create English words.
– There are changes to villagers, there are also missing non-playable characters like Tortimer.
– There are no fish in the sea except for the coelacanth.

There are many smaller changes but for me, it felt like these were the most important changes.
I won't be creating a story section for Animal Forest, you move into a new town where you are going to build a new life and create your own story.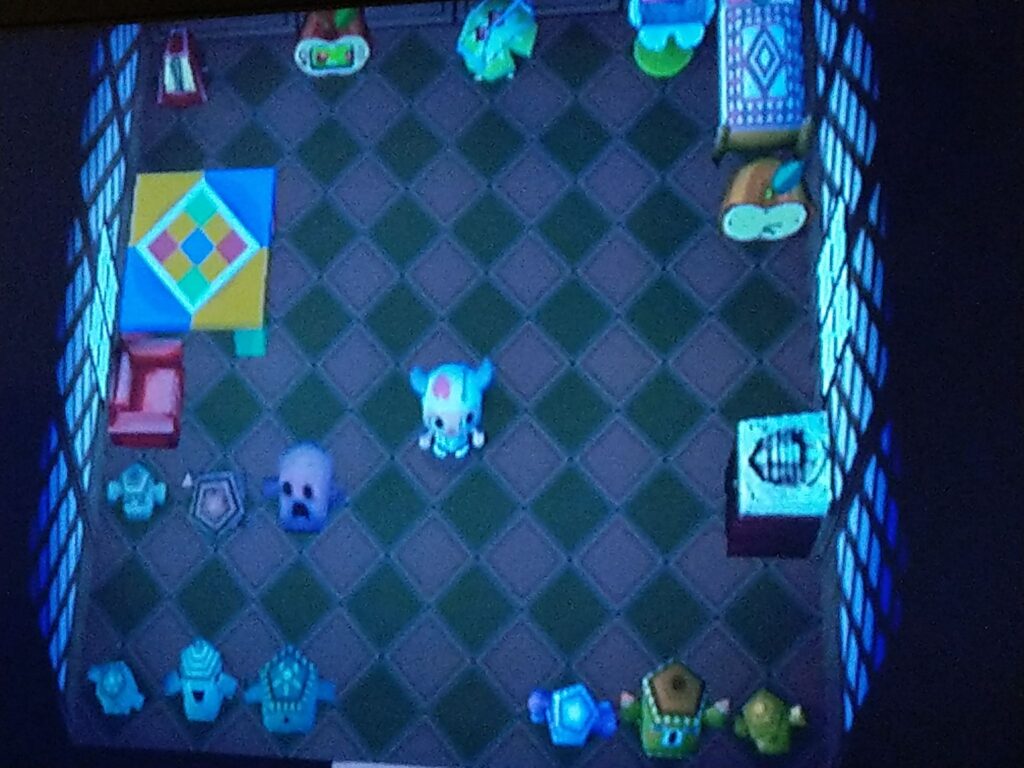 What did I think before playing Animal Forest?
I cannot tell you exactly what I thought before playing, the first time was when I was much younger and the game was fairly new and completely in Japanese. I also tried unofficial updates in other games where Japanese.
I was excited to see that so many people wanted a review of this game and I was not the only one who wanted to revisit the game.
Luckily I had a version that was semi translated which was really hard to get and I have had it for a long time. The game is the very first Animal Crossing but it was never released in the west. It did get some updates for an E-Reader but I don't know what this means exactly. I do know that there is a version with newer updates and more features and it is called Dobutsu No Mori E+. After the poll winner was known I quickly booted up the game.
I started a new game for this review, my new town was called Goldie since I had no inspiration for five figures. The complete intro is in English and most of Tom Nooks tasks that you will need to complete are in English too.
The Gyroid that can hold items and save your game is also in English. Most of the talking villagers talk in Japanese.

Gameplay
In Animal Forest you are starting a new life without knowing where you are going to live or actually having money. Money in this game is called bells. When you arrive in your new town you will need to work for Tom Nook who has a house ready for you.
After working for him you will be free to do any of the possible activities in Animal Forest, you will need to buy some tools before you can start fishing, digging, or catching bugs. You can also plant trees or flowers and even cut down trees that are in your way but you will need an ax. If you don't have the patience to wait a week for a fishing rod you can use time travel. Animal forest can be played with or without time traveling and it is up you to play how you see fit.
After you have collected some tools you can work on paying off the debt of your house, there many ways to collect bells. You can sell fruit and shells for bells, you can also catch some insects or fish. Everything that is collected needs to be sold to Tom Nook to gain bells. The best way to earn quick bells is to collect fossils and send them to the museum. Some of the fossils can be sold for 6000 bells but you do need to wait a day before the fossil comes back identified. The first debt to Tom Nook is 19.800 bells, the second debt is around 49.800 and the last debt is 498.000. This can take a lot of time to pay off but in Animal Crossing from the GameCube, the total amount is doubled. You can pay off your debt in the post office where you can also send fossils to the museum or send other letters.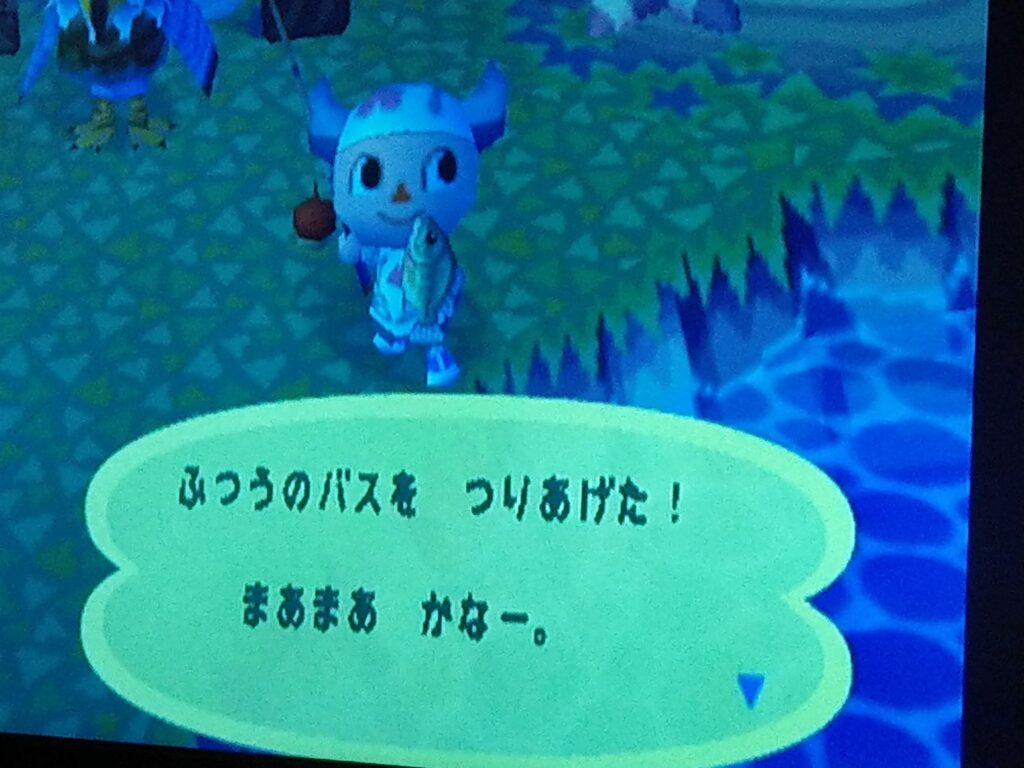 You can catch many different fish and insects and the different species can be seen in your inventory by swapping to the bug and fish menu. You cannot hold more than 50k bells at any given time, any excessive bells will be put in separate bags in your inventory. The most expensive fish is the coelacanth which is worth a whopping 15k bells but it is very hard to catch or even find. I have not found the insect yet with the most worth but the beetles are worth a lot. You can also find gyroids when digging which look like weird dancing creatures. I even found one that looks like a Re-Dead! Other ways to earn bells is to find the secret golden spot where you can dig up 1k bells. You can also achieve other secret goals with this golden spot like golden money trees. There is also one money rock once a day that can give you many bells if you can smash it many times in a row in a short time. There are many other ways to earn bells but you can also just enjoy the scenery and chill in your town and maybe find some event-related non-playable characters like Gulliver.

Talking to villagers is fun too but I have no clue what they are saying! I did have to deliver some packages here and there and I managed fairly well to do this and got some furniture in return. Furniture is needed to decorate your house, there are many ways to find furniture. You can buy them from Tom Nook, there is one decoration every day that he will showcase. When he has upgraded his store there will be two decorations per day. You can also find furniture by digging up star-shaped spots but these are rare. Sometimes a present will be floating around and it will land in a tree, these usually contain a piece of new furniture. There is also a dump where you can find new items every day, there can be clothing, stationery, or new furniture. In the police station, you can find the lost items' sections where you can just claim that everything belongs to you. There are many other ways to gain furniture or other items. There are so many things that you can do in Animal forest it is insane!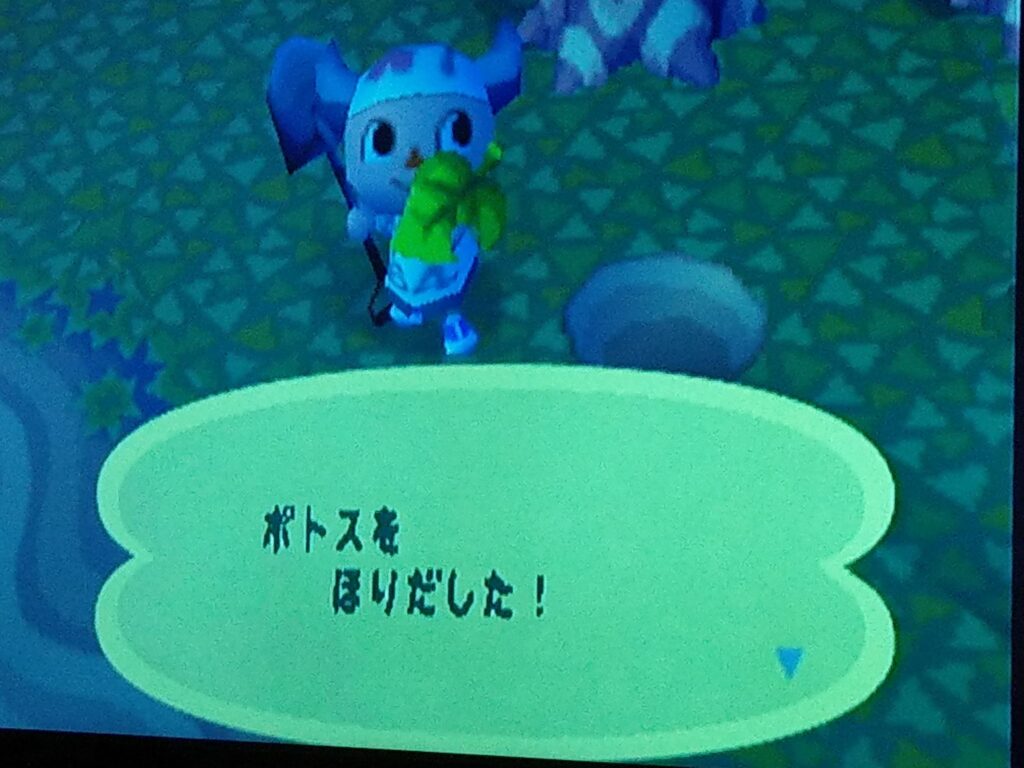 Sound and Graphics
The biggest question when reviewing older games is off course the graphics, does Animal Forest still hold up in the graphic section?
Yes, the graphics look a bit older but they hold up well and have aged nicely. The graphics are great to look at, you can still see that Tom Nook has a beer belly. He has earned enough from being a landlord, I bet he has a giant mansion outside the city with all the luxuries possible. The sound and sound effects still hold up very well.
This game still holds up after many years, even though it was never released in the west it would have been welcomed with open hearts.

What did I think of Animal Forest after playing?
It was really amazing to re-visit this gem from my childhood with some Japanese translated to English, I have many memories tied to the Animal Crossing franchise.
The game is really fun and I enjoyed upgrading my house and decorating my house but I did miss the museum. I tried to build a T-Rex but I could not find the torso so I decided to hoard the Gyroids.
I also missed the interactions with the villagers but that was never my strong point anyway. I usually end up ignoring them in the newer versions of Animal Crossing.
Animal Forest was very fun to play each day to make sure I got a giant house for the gameplay video, thanks to my wife for holding the phone for over 20 minutes!
There might be some cat sounds in the background, one of our cats went berserk on his cardboard house and decided to attack it.
My personal rating for this game is 8.7

I really loved playing this game, I would recommend getting the fully translated version on the Everdrive but sadly I don't have an Everdrive. It is a great experience to see where Animal Crossing really began.
I Give this game a …drumroll…

Leave your own thoughts in the comments or leave your own rating.
I hope you liked reading this review, I hope to see you in the next review.