A new RPG maker game has drawn my attention, not only does it look good it also features time travel. This means a complicated story where paradoxes are present. What if you step on the wrong butterfly? Whoops, Dinosaurs are now rampaging. Luckily this game does not feature rampaging dinosaurs but it does include time travel, please don't step on any butterflies.

We are taking a look at Heroes of Time, an RPG maker game that is set in the year 2131. This means that this is a Role-Playing game where you need to fight monsters and level up. This game is almost finished but for now, it is a demo. The story is about an evil scientist that wants to travel back in time, 1000 years exactly when the other game of this developer takes place. This other game is called Tales of Agaris and takes place in the same universe.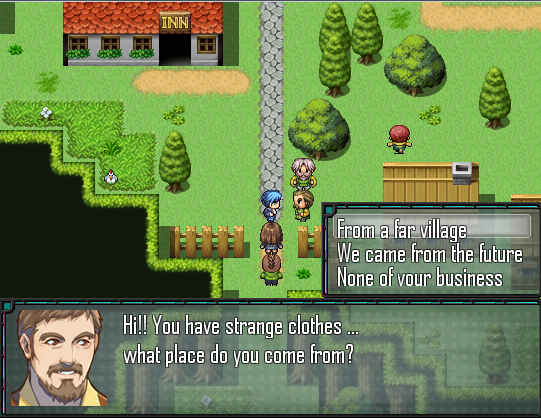 What else can you expect from Heroes of Time
– Follow the story of three individuals who are the only hope of saving the world.
– This game features a front view battle system.
– Defeat villains that may or may not have anything to do with the story.
– Make your own choices when playing the game.
– Time travel that will most likely boggle your mind!

I am looking forward to playing this game, there are still some minor improvements to be made before the game will be fully released. This game will always be free to play. Are you interested in some time travel? Find the game for free on Itch: https://metthink.itch.io/heroes-of-time

Every download helps the developer to continue working on the demo. This means the final version will be even better! Reviews by Supersven will promote Heroes of Time on Saturday 27th March at 8 PM C.E.T.
What are the current giveaways?
Interested in the current giveaways that are live on Reviews by Supersven?
You can find the giveaways right here: https://www.reviewsbysupersven.com/giveaways
Wanted Raccoon
sponsored by MAD Sprouts
For Sparta
sponsored by Gamecraft Studios
Star Shift
sponsored by Psychronics
Half Past Fate
sponsored by Verinius
Reventure
sponsored by Canamp Ideas
Racing Djani 2
sponsored by Pagie Portal
Soul of Giga
sponsored by Goody Pundit
Dungeon of Eyden
sponsored by Andrea Klein
Cat Quest
sponsored by GTZA Studios
Toki
sponsored by Tiny Ware Games
Overlord: Ultimate Evil Collection
sponsored by Reviews by Supersven