Hello,

This might be a long read but I hope you can appreciate it!
Today I am not sharing another review with you. I will be sharing a game that I am going to play and review soon called Lotharus Bacon Ale and Repeat. Have you ever wondered how many games there are on Steam?
There is an insane amount of unknown hidden games that I can find on Steam, some are hidden very well, today a developer reached out to me with a game on Steam I had never heard of!

As a game reviewer, it is an amazing opportunity to review a game that not many people know about, this game has only two steam reviews but I don't judge a game on Steam reviews, I judge on the mechanics of a game and much more while I am playing a game. Other important factors are the story, graphics, sound, and how well a game looks before starting the game, does it feel attractive to boot up the game?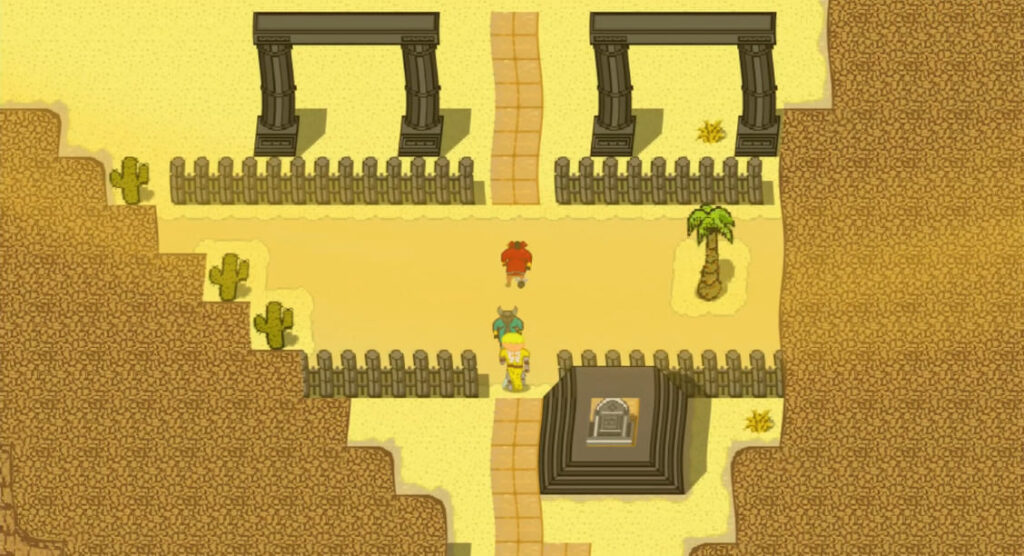 There are a few games that come out with huge successes and immediately hit the top of the chart like Valheim or Hades, others slowly crawl to the top like Dead Cells. The game that this developer offered was nothing like the aforementioned games. Lotharus Bacon Ale and Repeat was made by Sloppy Joe Studios and is run by a single developer who has spent god knows how long working on this game for barely anyone to notice it.
Some people have worked previously on creating a game and know how hard it is to create one, there are various software for this and many programming languages. Lotharas Bacon Ale and Repeat is made with the RPG maker software which I am quite fond of. Even though this was immediately clear, I hoped that Lotharus Bacon Ale and Beer did not have the same problem as many other RPG maker games. People often dwindle these games off as just another silly game with tilesets included in the software to create the game. I noticed immediately that the tilesets are special, the developer of Lotharus Bacon Ale and Repeat has drawn the art himself. This is also why I was immediately attracted to say yes to review this game. You can still see that the game runs on RPG maker but it looks unique enough that if you do not know the software you might not notice this.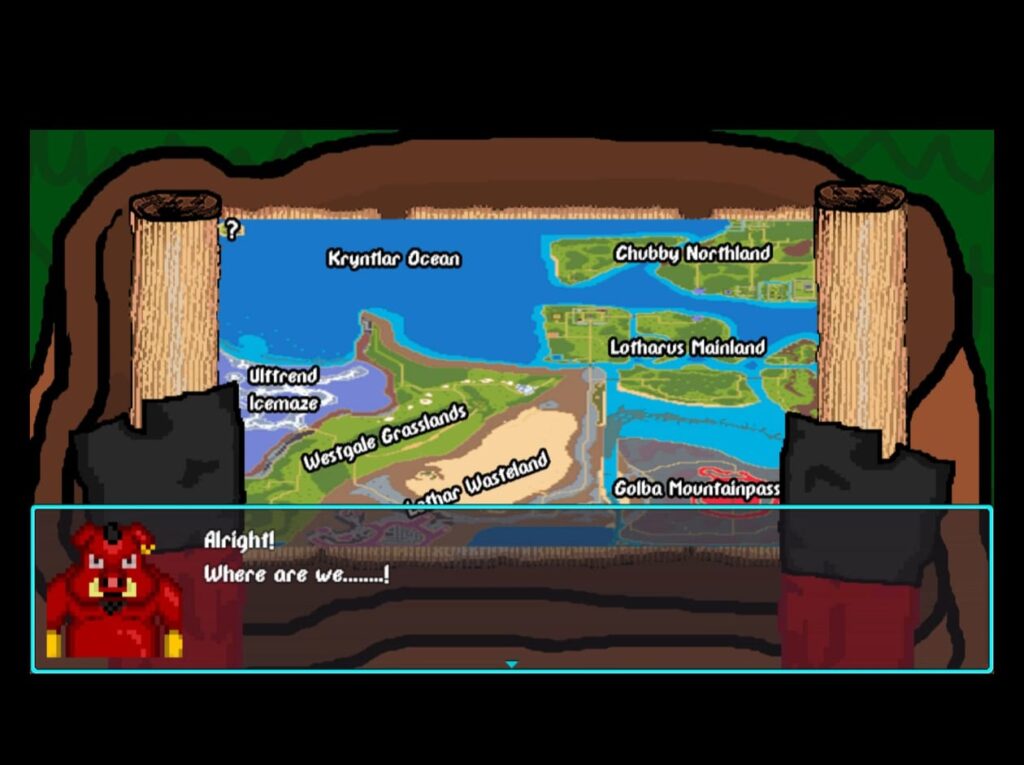 I also noticed how the game was swallowed by the huge gaming list on Steam, lost in the forest of games, it can be hard for your game to get noticed this way unless it is a real blast.
Thank you so far for reading all this, you might be curious now what the game is actually about and what you can expect when you start playing this game. I would like to start with that this game is only €7.39.
This game sounded like a crazy ride to me, you play as a hog who wants to settle down and drink ale and more ale. The land has been taken over by dirty minotaurs, maybe this hog can become a hero and save the land called Lotharus?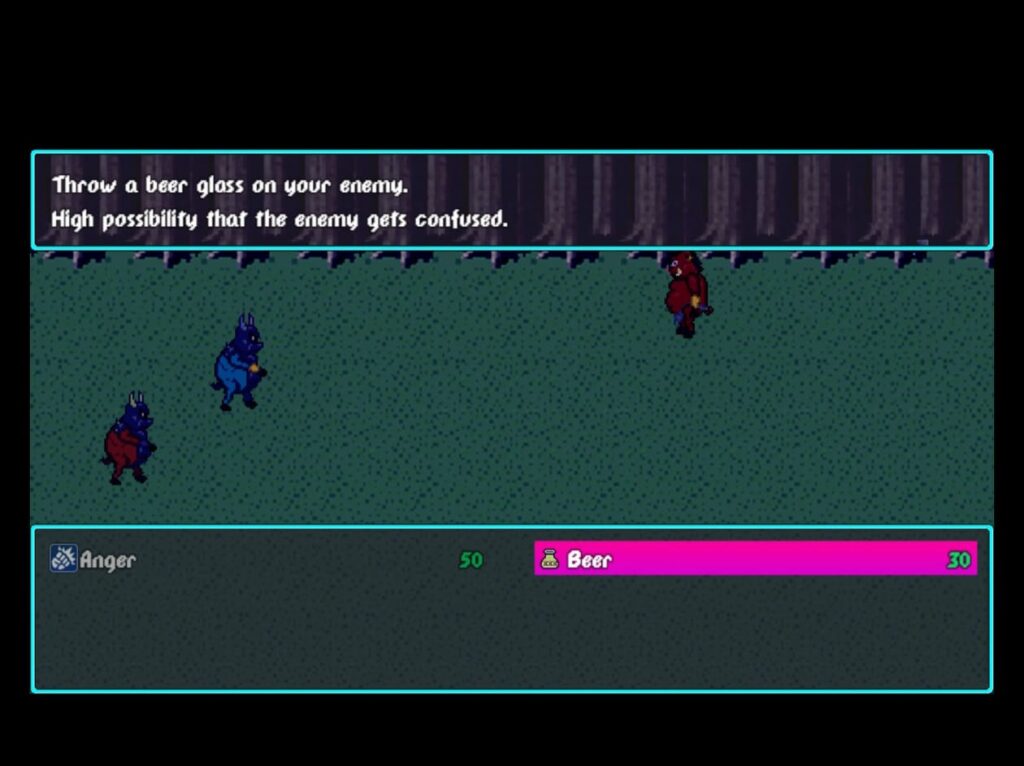 What else can you expect from Lotharus Bacon Ale and Repeat?
2D RPG adventure
Hand-drawn landscapes, hand-drawn characters, and much more custom art!
Wacky Turn-based combat
two Different beginnings and two different endings depending on how you pick your fights
Peeing Minotaurs
Evil Shadow Creatures who are hunting you
A dull Skeleton King
Dragons
Night and Day traveling
Decorate your own home and a home for your "friends"
Minigames with great prizes, if you don't suck at minigames
Music that'll suck you right in
Characters with very different backgrounds
Rat bears that have a Leggings fetish…?
You might find your true love… Outside of all the Ale Consumption…!

As you can see, there are many, even though some are odd, features that could make this a great game. The developer estimates the gameplay time that is needed to complete this grand adventure around twenty hours.
If I have interested you to take a little peek at this game that is hidden in Steam, This is the steam page of Lotharus Bacon Ale and Repeat.

https://store.steampowered.com/app/1454030/Lotharus__Bacon_Ale__Repeat/?fbclid=IwAR1NqKhuNbcF0mLf4jTulYo6k_AT2Kgd5pZPvHOewyyvhYKAluAq0NI5r5U

Thank you for reading my long story, I hope you might be looking out now for hidden games on Steam, Sloppy Joe Studios has two other RPG games that you can download for free, visit the link below!

https://sloppyjoestudios.itch.io/